Change up your regular strawberry banana smoothie by adding grapefruit! It adds a refreshing, tart twist to an otherwise sweet recipe. You'll love this Strawberry Grapefruit Smoothie as a morning meal or mid-day snack. It's filling and fruity!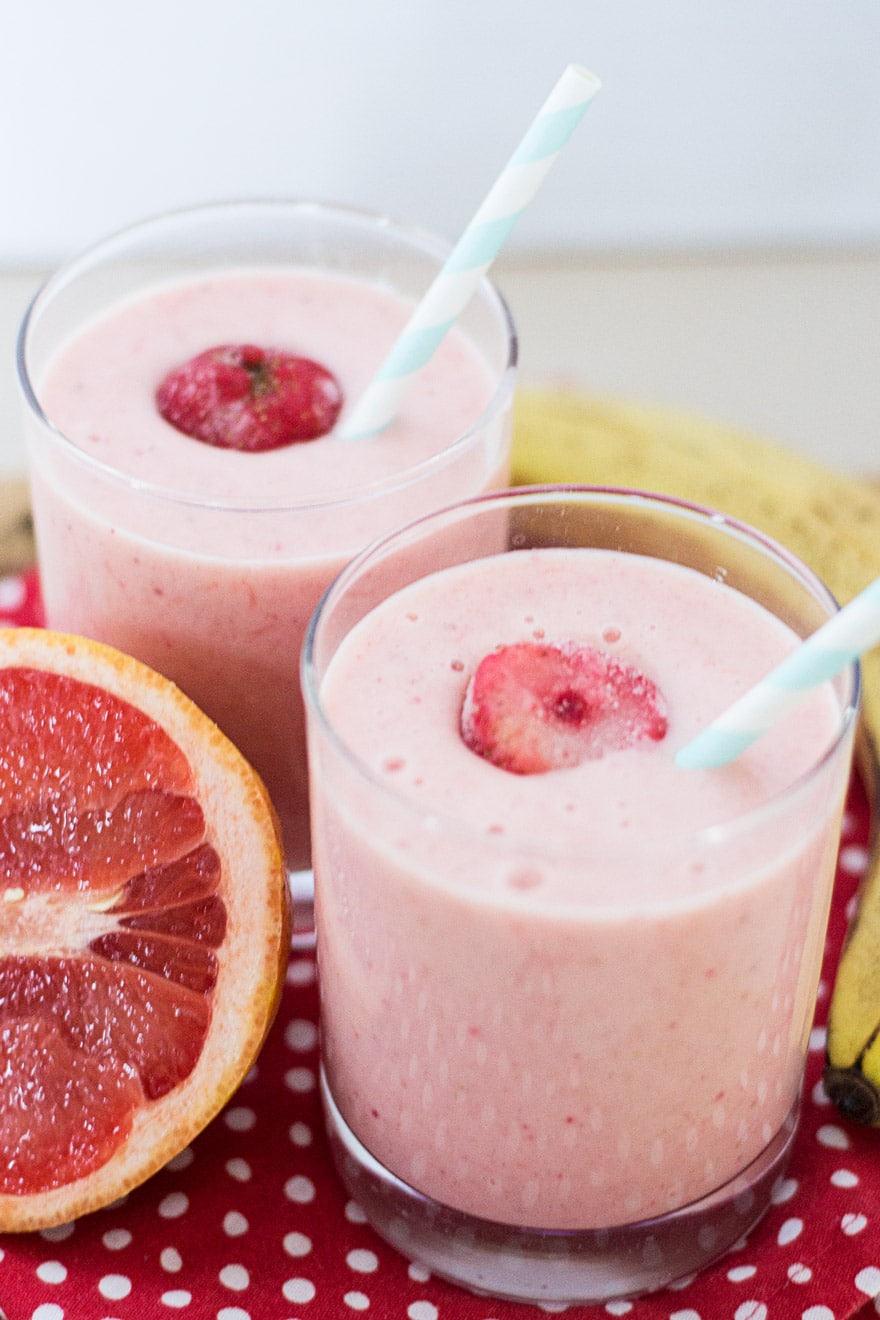 Sweet & Tart Strawberry Grapefruit Smoothie
Do you ever want something that's both sweet and tart at the same time? That's a common conundrum for me, as I do like ths sweet flavor of most fruit smoothies, but there are times when I crave something tart in addition, like grapefruit, lemon or lime. I knew that grapefruit would be a great addition to my usual strawberry banana smoothie, so I went for it!
If you prefer your smoothie on the sweeter side, definitely tone down the grapefruit in this. Use half a grapefruit instead of a whole one. But, if you're like me and really enjoy the ZING! factor of a tart smoothie, keep the whole thing in. It's delicious, I promise!
How to Make a Strawberry Grapefruit Smoothie
Ready to make your strawberry grapefruit smoothie? Here are a few steps and tips.
Step 1 – Add liquids and soft fruit first.
Add the milk, yogurt, and grapefruit to the blender first. This will make it easier to pull in and blend the frozen fruit. Make sure you remove the seeds and peel from the grapefruit, and remove as much of the rind (white part) as possible to prevent any bitterness. Blend for 15-30 seconds.
Step 2 – Add frozen fruit.
Next, add your frozen banana and strawberries. Blend for 60-90 seconds until smooth and thick. If the smoothie is too thick, add a little more milk. If it's too thin, add 5-10 pieces of ice.
Step 3 – Add honey to sweeten.
Taste-test your smoothie at this point. If it's too tart, add a teaspoon or two of honey. Two teaspoons did the trick for us. If you prefer a sugar substitute like Swerve, you can use that, too without adding many calories or extra carbs.
Pour into glasses, and enjoy!
You should also try our Strawberry Chia Smoothie!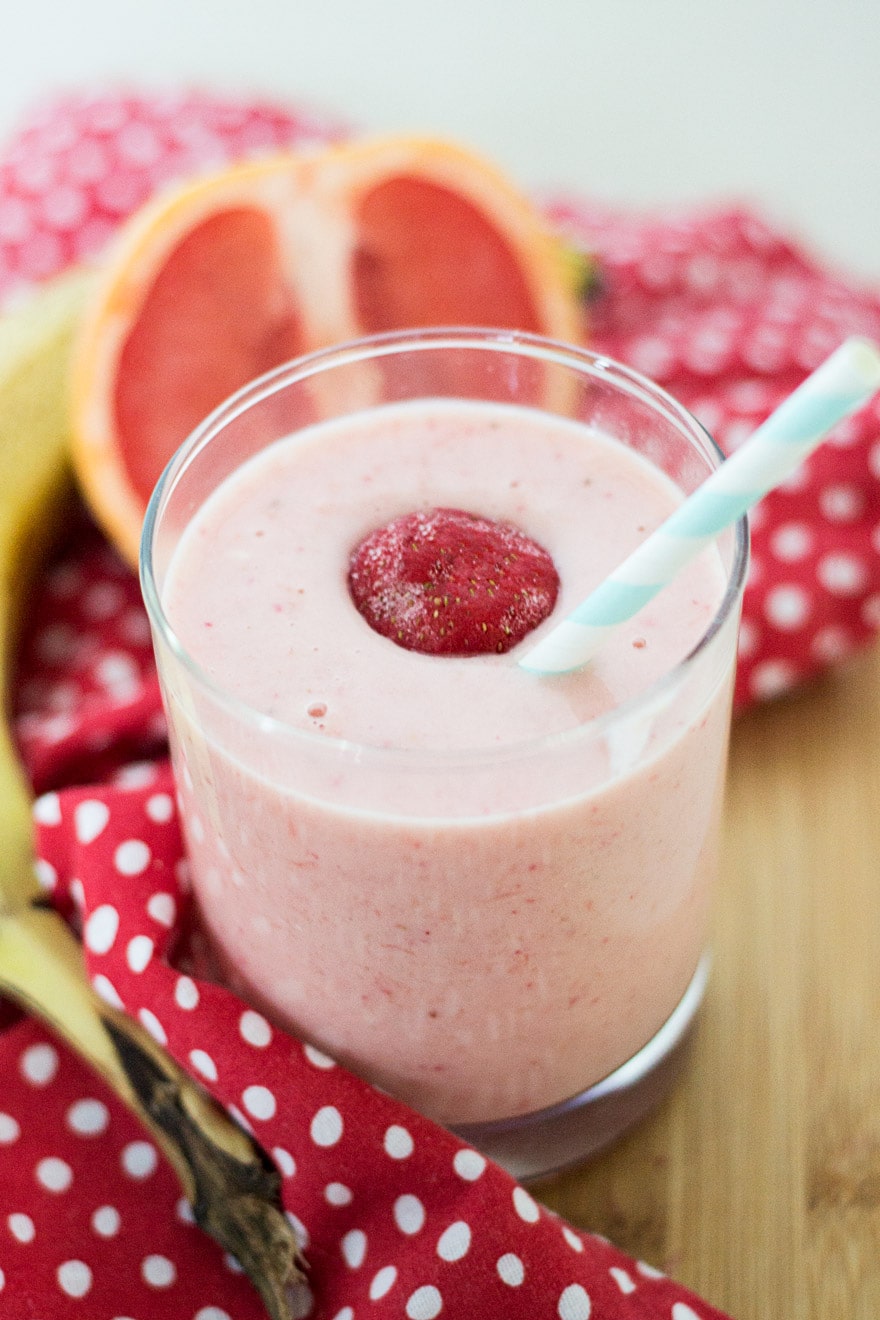 Ready to make your own strawberry grapefruit smoothie? Here's a recipe card that you can print with the exact measurements and directions you'll need. We hope you enjoy it!
Strawberry Grapefruit Smoothie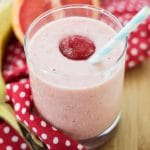 This sweet/tart Strawberry Grapefruit Smoothie hits the spot when you need a refreshing pick-me-up. It's wonderful as a morning meal or as a mid-day snack.
5 strawberries (frozen)
1 grapefruit (peeled and seeded)
1 banana (frozen)
1/2 c. Greek yogurt
1/2 c. unsweetened almond or coconut milk
2 tsp. honey (optional)
Add milk, yogurt and grapefruit to blender first, followed by frozen strawberries and banana.
Blend 60-90 seconds or until mixture is smooth and thick.
Sweeten with 2 tsp. honey if desired.
If you enjoyed this Strawberry Grapefruit Smoothie Recipe, you'll also like: