Smoothies are a delicious and nutritious way to start your day or refuel after a workout. But sometimes, you might find yourself with some leftover smoothie that you don't want to waste. Don't worry – there are plenty of creative ways to repurpose your leftover smoothie and avoid any unnecessary waste.
One great way to transform your leftover smoothie is freezing it for later use. Whether it's in an ice cube tray or a popsicle mold, freezing leftovers allows you to easily enjoy them again at a later date. Another fantastic use for leftover smoothies is giving them a new purpose, such as incorporating them into other recipes or meals.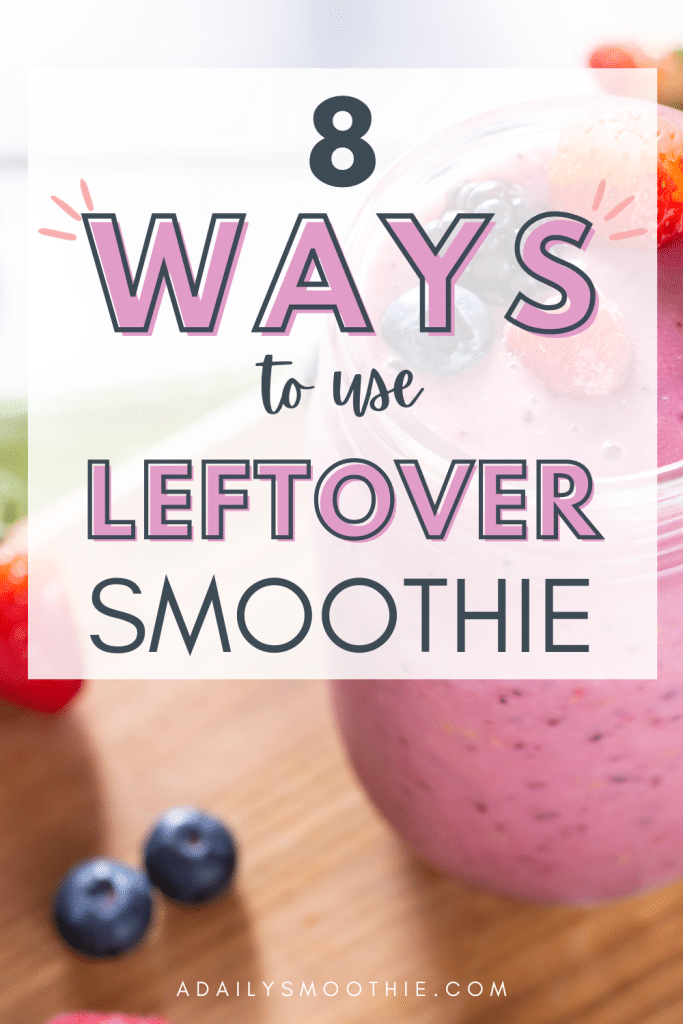 For instance, a strawberry chia smoothie can make a perfect addition to your morning oatmeal, giving it an extra boost of flavor and nutrients. So, go ahead and get creative with your leftover smoothie, and discover new ways to make the most out of every last drop.
Storing Leftover Smoothies
In the Fridge
If you have some leftover smoothie and you only need to store it for a few hours or until the next day, the fridge is your best option. To keep your smoothie fresh and tasty, pour it into an airtight container with a tight-fitting lid. This will help prevent any odors or flavors from other food in the refrigerator from affecting the taste of your smoothie. Remember to store your container on a stable and flat surface in the fridge to avoid any spills or leaks.
In the Freezer
For longer storage or if you'd like to get ahead on meal prep, freezing your leftover smoothie is an excellent choice. To do this, you can either pour your smoothie into an ice cube tray or divide it into smaller airtight containers with lids. Freezing your smoothie into ice cubes allows you to easily portion out and blend your desired amount later on, while using smaller containers will give you ready-to-go servings.
When you're ready to enjoy your frozen smoothie, simply remove it from the freezer and let it thaw in the refrigerator for a few hours, or blend the ice cubes directly into a new and delicious creation. Either way, you'll have a convenient and refreshing treat on hand whenever you need it.
By following these simple tips for storing your leftover smoothies in the fridge or freezer, you'll be able to extend their shelf life while maintaining their delicious taste and nutritional value. Just remember to use a clean, airtight container with a secure lid to keep your smoothie fresh and ready to enjoy. Happy sipping!
Repurposing Leftover Smoothies
Leftover smoothies shouldn't go to waste, as there are several creative ways to repurpose them. Here are some ideas to help you make the most of your leftovers:
Into Ice Cubes
One simple option is to turn your leftover smoothies into ice cubes. All you need is an ice cube tray – just pour your remaining smoothie into it and freeze. This way, you can reuse your smoothie cubes in future concoctions or toss them into beverages like lemonade for an interesting twist.
Into Popsicles
Another great idea for using up leftover smoothie is to create tasty popsicles. Grab a popsicle mold or simply use paper cups and fill them with the remaining smoothie mix. Insert a popsicle stick and freeze until solid. Enjoy a cool, healthy snack on a hot day!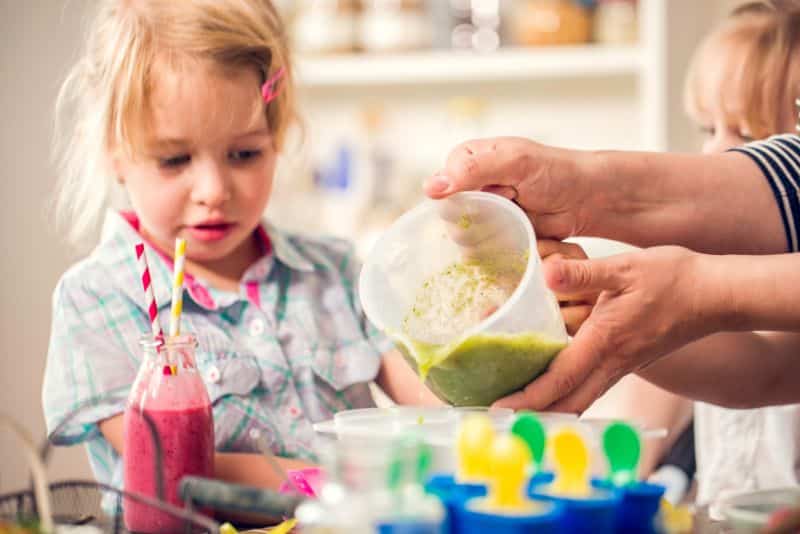 Into Baked Goods
You can also incorporate your leftover smoothie into baked goods, such as muffins. Simply replace some of the liquid components (like milk or water) of your favorite muffin recipe with the leftover smoothie. This way, you give your baked treats a fun, fruity twist!
Into a Shake
Why not use your leftover smoothie as the base for a new and exciting shake? Mix it with additional ingredients, such as milk, yogurt, or even a scoop of protein powder, to create a delicious and satisfying frozen treat. Get creative with your combinations!
Into a Marinade
You might be surprised to learn that leftover smoothies can also be used as a meat marinade. Combine your smoothie with some oil, vinegar or soy sauce, and your choice of seasonings, and allow your meats to soak in the tasty mixture before grilling or baking. The fruity flavors of your smoothie can help tenderize the meats and add a unique taste to your dishes.
Incorporating Leftovers Into Breakfast
In Pancakes
Have you ever thought about using your leftover smoothie to make pancakes? It's a brilliant way to add some extra flavor and nutrients to your breakfast. Simply replace some of the liquid in your pancake batter with your leftover smoothie, then cook the pancakes as usual. The result will be a tasty, colorful stack that's sure to impress. For a delicious option try using a Peanut Butter Banana Breakfast Smoothie as the base for your pancakes.
In Oatmeal
You can also mix your leftover smoothie into your morning oatmeal. This not only adds flavor to your oats, but also provides a boost of vitamins and minerals. Try adding a few spoonfuls of your leftover smoothie to your cooked oatmeal, and mix well. This will give your oatmeal a nice fruity twist and make it even more filling and satisfying.
In Greek Yogurt
Leftover smoothies can also be a great way to liven up your Greek yogurt. Simply stir some of the smoothie into your yogurt and enjoy a creamy, fruity breakfast that's packed with protein. This combination is perfect for those who want a quick and nutritious meal without spending too much time in the kitchen. Feel free to get creative and add some nuts or granola for an extra crunch.
FAQs About Leftover Smoothies
Can you leave a smoothie in the fridge overnight?
Yes, you can leave a smoothie in the fridge overnight. In fact, storing your leftover smoothie in the refrigerator is a great way to preserve its freshness and nutritional value. However, there are a few tips to ensure that your smoothie stays at its best when refrigerated.
First, make sure to store your smoothie in an airtight container to prevent exposure to air, which can change its taste and texture. Glass containers or bottles with a tight-fitting lid work well.
Another important factor is the temperature. Keep your fridge at or below 40°F (4°C) to keep your smoothie fresh. If possible, store your smoothie in the back of the fridge where the temperature tends to be more consistent.
When you're ready to enjoy your smoothie the next day, give it a good stir or shake, as some separation may have occurred during refrigeration. Keep in mind that the texture and flavor of your smoothie may change slightly after it has been stored overnight, but it should still be tasty and nutritious.
For the best results, try to consume your leftover smoothie within 24-48 hours of making it. Over time, the ingredients in your smoothie may begin to break down, so it's best to enjoy it sooner rather than later.
By following these guidelines, you'll be able to safely store your leftover smoothie in the fridge overnight and enjoy a delicious and healthy treat the next day!