Are you looking for a delicious and healthy way to start your day? Consider trying an acai smoothie! Made with the nutrient-rich acai berry, these smoothies offer a convenient and tasty way to promote overall health and wellness. Acai smoothie benefits include improved digestion, increased energy, and enhanced immune function, making them a popular choice for health-conscious individuals.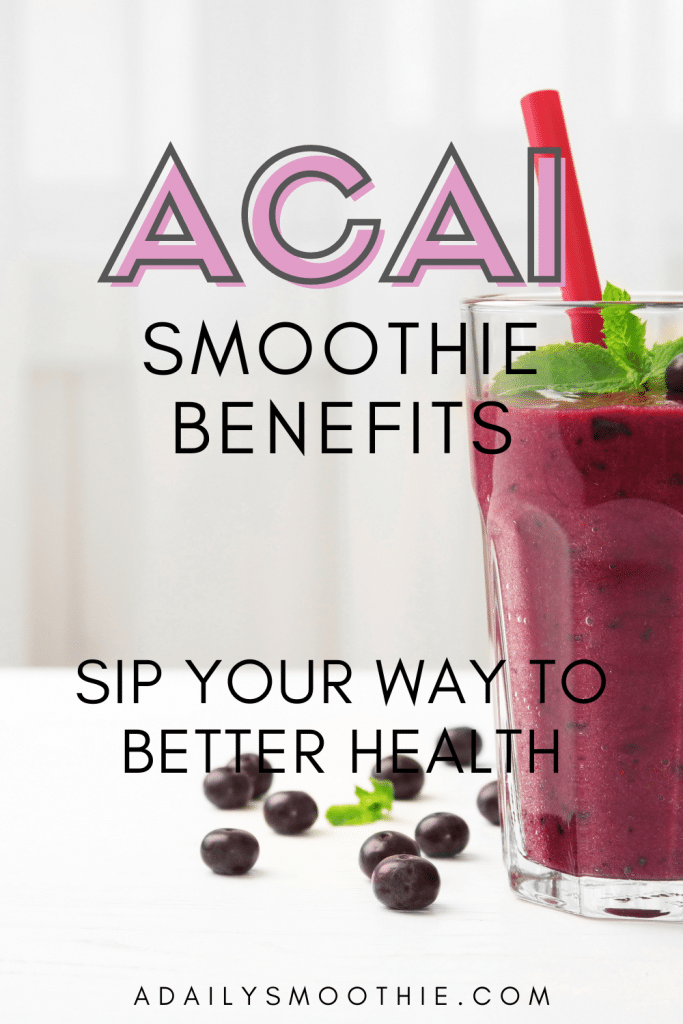 What is Acai?
You may have already come across acai berries if you're a smoothie aficionado. Originating from the Amazon region of Central and South America, these small, dark purple gems grow on acai palm trees. They've been a dietary staple for indigenous communities for centuries.
Packed with a powerhouse of nutrients—think antioxidants, healthy fats, and fiber—acai berries have become a go-to ingredient for health-conscious eaters. You'll often find them in smoothies, acai bowls, and other nutritious dishes.
What sets acai apart is its unique flavor profile, often described as a tantalizing mix of berries and chocolate. You can typically find acai in frozen puree form, nestled in the health food section of your local grocery store.
Their rich nutrient content and unique taste have catapulted acai berries from a regional staple to a global superfood, making them increasingly popular worldwide.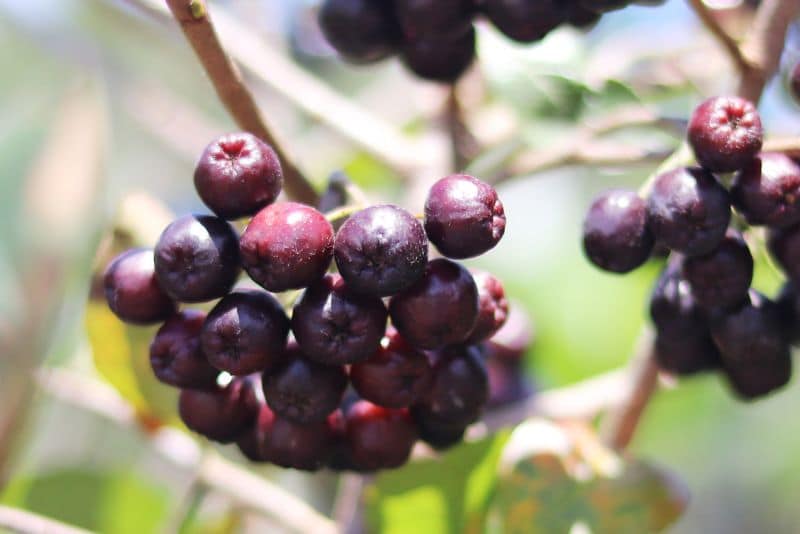 Health Benefits of Acai Smoothies
Now that we've covered the basics of what acai is and why it's so popular, let's delve into the specific health benefits you can reap from incorporating acai smoothies into your routine. Trust me, the perks go beyond just taste!
Antioxidant Powerhouse: One of the standout features of acai berries is their high antioxidant content, particularly anthocyanin. This antioxidant not only gives acai its deep purple hue but also helps combat free radicals in your body. Free radicals can damage cells and contribute to aging and diseases like cancer, making antioxidants essential for overall health.
Fiber-Filled Satisfaction: Acai berries are rich in fiber, which aids in digestion and helps you feel full longer. This can be particularly beneficial for weight management, as it may help you avoid unnecessary snacking between meals.
Heart-Healthy Fats: These berries are a good source of healthy fats like omega-3, omega-6, and omega-9 fatty acids. These fats are known for their ability to support heart health by improving cholesterol levels and reducing inflammation in the cardiovascular system.
Anti-Inflammatory Effects: The anthocyanin in acai also has anti-inflammatory properties. Chronic inflammation is linked to numerous health issues, including heart disease and cancer. By reducing inflammation, you're giving your body an extra layer of protection against these conditions.
Boosts Brain Health: The fatty acids in acai don't just benefit your heart; they're also good for your brain. Omega-3s, in particular, are essential for brain function and may help protect against cognitive decline as you age.
Rich in Vitamins and Minerals: Acai is a good source of vitamin A, which is essential for vision and immune function. It also contains important minerals like iron, which helps carry oxygen through your blood; potassium, which is crucial for heart health; and calcium, which is vital for bone health.
Protein Boost: If you're looking to add more protein to your diet, a scoop of protein powder blends well with the natural flavors of an acai smoothie. Protein is essential for muscle repair and growth, and it can also help keep you satiated, making it easier to manage your weight.
Acai Smoothie Nutritional Profile
An acai smoothie isn't just a burst of tropical flavors; it's also a nutritional goldmine. Let's break down the numbers so you can see exactly what you're getting in each delicious sip.
Nutritional Profile of an Acai Smoothie
| Nutrient | Amount per 100g Serving | Why It's Good For You |
| --- | --- | --- |
| Calories | 150 per cup | Ideal for meal replacement or a satisfying snack. |
| Fat | 2 grams | Low fat content makes it perfect for those watching their fat intake. |
| Cholesterol | 0 mg | Cholesterol-free, supporting heart health. |
| Sugar | 15 grams | Low sugar levels make it a smart choice for those monitoring sugar intake. |
| Carbohydrates | 32 grams | Provides the energy you need to power through your day. |
| Sodium | 0 milligrams | Low sodium content is great for those looking to reduce sodium in their diet. |
Nutritional profile of an acai berry smoothie
An acai smoothie is a nutrient-packed elixir designed to fuel your body and mind. With its low calorie count, it's a fantastic option for a meal replacement or a guilt-free snack. Plus, its low levels of fat, cholesterol, sugar, and sodium make it a heart-healthy choice.
Making Acai Bowls and Smoothies
Making acai bowls and smoothies is quick and easy. You can customize your bowl or smoothie with a variety of toppings to suit your taste preferences. Here are some tips on how to make the perfect acai bowl or smoothie:
Start with frozen acai puree or acai powder. You can find these at most health food stores or online.
Add your favorite fruits, such as banana, mango, or strawberries, to the blender. This will give your bowl or smoothie a natural sweetness.
Add a liquid, such as coconut water or almond milk, to help blend the ingredients together. You can also use plain water if you prefer.
Blend until smooth. If the mixture is too thick, add more liquid until you reach the desired consistency.
Toppings are what make acai bowls and smoothies so fun and versatile. Here are some ideas for toppings:
Sliced banana
Coconut flakes
Granola
Nuts and seeds, such as almonds, chia seeds, or pumpkin seeds
Fresh fruit, such as mango, strawberries, or blueberries
Drizzle of honey or agave nectar
To make an acai bowl, pour the smoothie mixture into a bowl and add your favorite toppings. You can arrange the toppings in a pretty pattern or mix them all together for a delicious and colorful bowl. Enjoy your acai bowl with a spoon and savor every bite.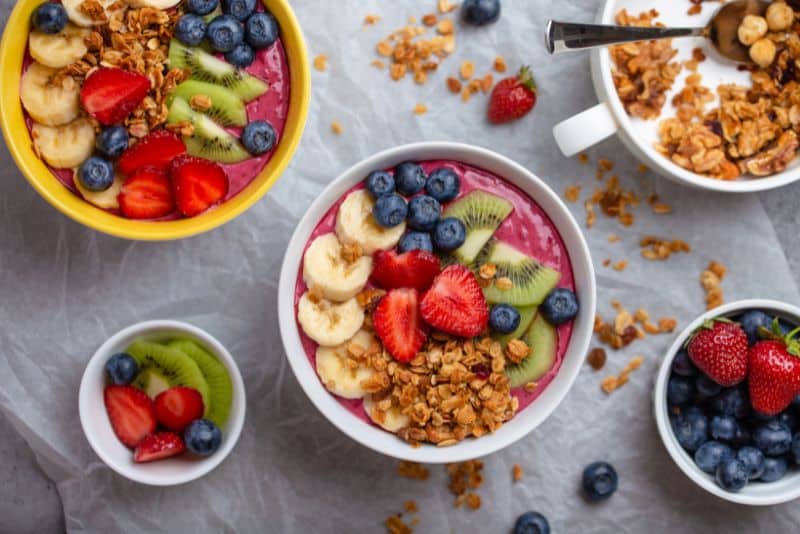 Acai Smoothies and Weight Management
One of the reasons acai smoothies are great for weight management is that they are low in calories. A typical acai smoothie contains around 200-300 calories, which makes it a great option for a meal replacement or a snack.
In addition to being low in calories, acai smoothies are also high in fiber. Fiber is important for weight management because it helps you feel full and satisfied, which can help you eat less throughout the day. Acai berries are also high in healthy fats, which can help you feel full and satisfied for longer periods of time.
Acai Smoothies and Disease Prevention
One of the most well-known benefits of acai berries is their anti-cancer effect. Acai berries contain a type of flavonoid called anthocyanins, which have been shown to have anti-cancer properties. These compounds can help prevent the growth and spread of cancer cells, but human studies are needed as these results have only been seen in preclinical studies.
Acai berries may also help protect against heart disease. Studies have shown that acai berries can help lower cholesterol levels, particularly LDL cholesterol, which is the "bad" type of cholesterol that can contribute to heart disease.
For those with diabetes or who are at risk for developing diabetes, acai berries may also be beneficial. Acai berries have been shown to help regulate blood sugar levels and improve insulin sensitivity, which can help prevent the development of type 2 diabetes.
Finally, acai berries are also known for their anti-inflammatory properties. Chronic inflammation is a contributing factor to many chronic diseases, including heart disease, diabetes, and cancer. By reducing inflammation in the body, acai berries may help prevent the development of these diseases.
Overall, incorporating acai smoothies into your diet can be a delicious and easy way to reduce your risk of chronic diseases. With their high antioxidant and anti-inflammatory content, acai berries can help protect your body from the inside out.
Acai Smoothies and Brain Health
If you're looking for a tasty way to boost your brain health, acai smoothies are a great option. Acai berries are packed with antioxidants and other nutrients that can help protect your brain cells from damage and improve your cognitive function.
Studies have found that the antioxidants in acai berries can help improve memory and protect against age-related cognitive decline. Acai berries are also rich in anthocyanins, which are compounds that have been shown to improve motor function and coordination.
In addition to their brain-boosting benefits, acai smoothies are also a great way to get a healthy dose of vitamins and minerals. Acai berries are high in vitamin C, which can help boost your immune system, and potassium, which can help regulate your blood pressure.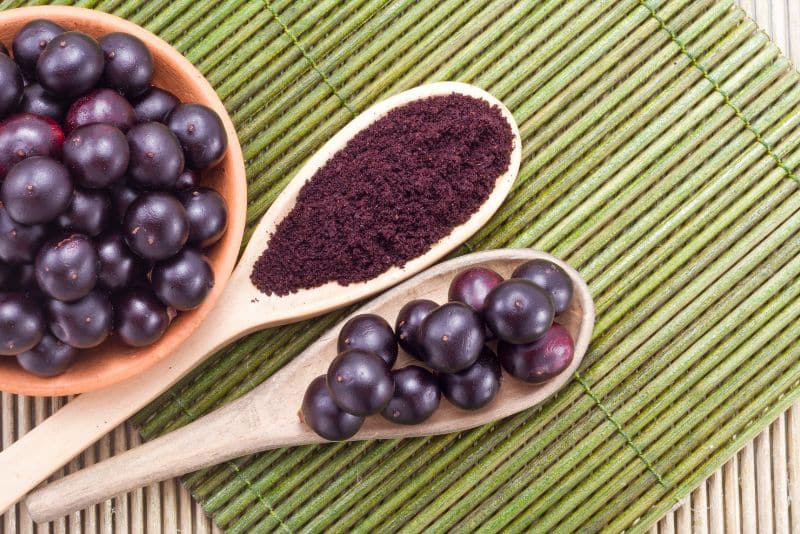 Choosing the Right Acai Products
When it comes to acai products, there are a variety of options to choose from. Here are some things to keep in mind when selecting the right acai products for you:
Acai Powder
Acai powder is made from freeze-dried acai berries and is a popular ingredient in smoothies, bowls, and other recipes. It's a convenient way to add acai to your diet, but be sure to choose a high-quality powder from a reputable source.
Supplements
Acai supplements are available in capsule or liquid form, and are marketed for their antioxidant and anti-inflammatory properties. However, there is limited research on the effectiveness of acai supplements, so be sure to talk to your healthcare provider before taking them.
Frozen Purée
Frozen acai purée is a convenient option for making smoothies and bowls at home. Look for a purée that is unsweetened and free from additives. You can find this in the freezer section at your local grocery store or health food store.
Potential Allergies and Side Effects
While acai is generally considered safe to consume, some individuals may experience allergies or side effects. Here are a few things to keep in mind:
Severe allergic reaction: Acai may cause a severe allergic reaction in some people. Symptoms may include breathing difficulties, itchiness, and rash. If you experience any of these symptoms, seek medical attention immediately.
Blood sugar: Acai may affect blood sugar levels, so individuals with diabetes should be cautious when consuming it. While acai may increase or decrease blood sugar by a small amount, this is generally not a big concern for most people.
Gastrointestinal issues: Consuming large amounts of acai may cause gastrointestinal issues such as diarrhea and stomach cramps. To avoid these side effects, it's best to consume a moderate amount of acai.
Interactions with medication: Acai may interact with certain medications, so it's important to speak with your doctor before consuming it if you are taking any medications.
Overall, while acai is generally considered safe, it's important to be aware of these potential side effects and to consume it in moderation. If you have any concerns, speak with your doctor before adding acai to your diet.