Smoothies have become a go-to option for those who want a nutritious drink or a quick meal on the go. A key factor in creating a great smoothie is versatility – combining fruits, vegetables, and proteins to make it a balanced, delicious, and wholesome drink. One creative addition to consider is quinoa, an ancient grain known for its numerous health benefits, particularly its high protein content.
Introducing quinoa into your smoothie adds a nutritious punch and provides a fantastic source of protein. Quinoa smoothies are an excellent option for anyone, whether you're an athlete looking to amp up your protein intake or simply in search of an energizing and filling drink. These smoothies can be easily prepared and customized to cater to your individual preferences and needs.
So, can you put quinoa in a smoothie? Absolutely! By incorporating quinoa into your smoothie, you're taking your beverage to the next level of nutrition and taste. Embrace the joy of experimenting with your favorite fruits, vegetables, and now quinoa – your taste buds will thank you!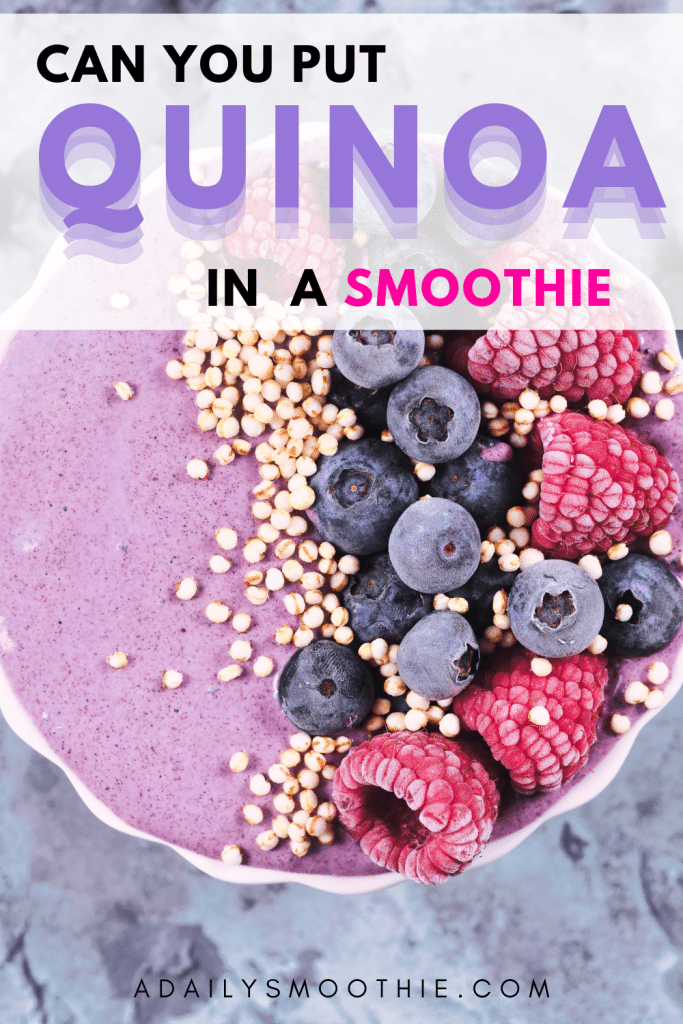 Health Benefits of Quinoa
Quinoa is a nutritious seed that can be a great addition to your diet, especially in a smoothie. It's packed with protein, fiber, iron, magnesium, and complex carbs, making it an excellent choice for a healthy and filling meal.
One of the standout features of quinoa is its protein content. Quinoa contains all nine essential amino acids, making it a complete protein. This makes it an excellent choice for vegetarians, vegans, or anyone looking to add more plant-based options to their diet. Including quinoa in your smoothie can help you meet your daily protein needs.
In addition to protein, quinoa is also rich in fiber. Adding quinoa to your smoothie can help keep you full for longer and support healthy digestion. Fiber is essential for maintaining a healthy gut and can contribute to weight loss by keeping you full and satisfied.
Quinoa is also a fantastic source of iron and magnesium. Iron is vital for transporting oxygen in the blood, while magnesium helps with nerve and muscle function. Incorporating quinoa into your smoothie is an easy way to boost these essential minerals in your daily diet.
Lastly, quinoa is a complex carb, which means it provides long-lasting energy. Complex carbs help stabilize your blood sugar, preventing energy crashes throughout the day. With all of these incredible benefits, quinoa is an excellent addition to your smoothie, providing a nutritious, protein-packed, and filling meal that will keep you feeling great!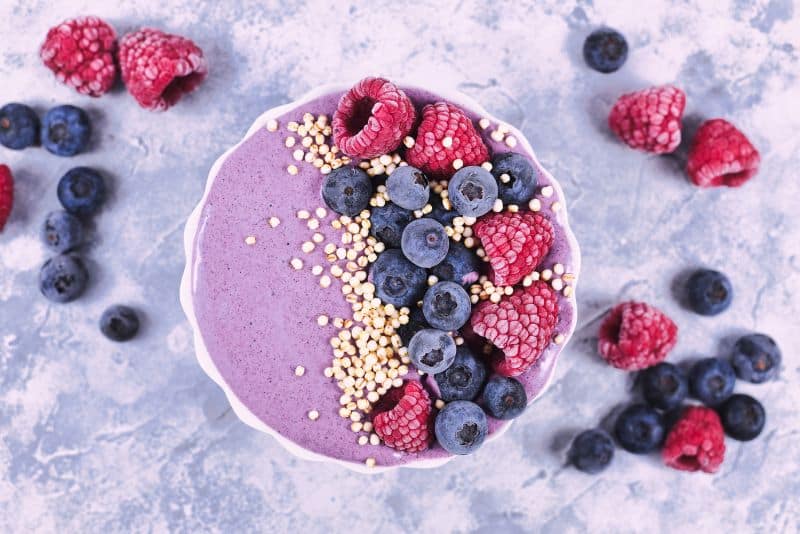 Incorporating Quinoa in Smoothies
There are various ways you can use quinoa in smoothies. You may use quinoa flakes, raw quinoa, or even toasted quinoa. Each form comes with its unique texture and flavor profile while still providing the desired nutrition.
Quinoa Flakes – Quinoa flakes are a popular choice for adding to smoothies. They're a gluten-free grain and a great source of protein, fiber, and minerals, making your smoothie more filling and nutritious.
Raw Quinoa – While less common, you can also incorporate raw quinoa into your smoothies. Just make sure you rinse the quinoa well to remove any saponin, a natural coating that can taste bitter if not removed.
Toasted Quinoa – Some people prefer to toast their quinoa before adding it to their smoothie, which imparts a nuttier flavor. Simply spread the quinoa on a baking sheet and toast in the oven at 350°F until they start to brown.
Adding Quinoa to Smoothies for Extra Nutrition
To add quinoa to your smoothie, first, cook the grain if you're using raw quinoa or toasted quinoa. The general rule is to bring 1 cup of quinoa and 2 cups of water to a boil, and then simmer it for 10-15 minutes until all the water is absorbed. Make sure to keep an eye on it during the final stages of cooking to prevent it from sticking to the pot.
Once your quinoa is prepared, simply add it to your blender along with your other smoothie ingredients, and blend until smooth. The quinoa will provide an extra boost of fiber, protein, and other nutrients, making for a healthy and filling beverage option.
Try experimenting with different forms of quinoa and various smoothie recipes to find the perfect combination that suits your taste buds.
Tips and Tricks for the Perfect Quinoa Smoothie
Achieving the Right Quinoa Smoothie Consistency
A smooth and creamy quinoa smoothie starts with choosing the right ingredients. First, ensure your quinoa is cooked properly. You can cook about 1 cup of quinoa with 2 cups of water, bringing it to a boil and then simmering for 10-15 minutes until the water is absorbed, as described here.
Next, the choice of the liquid base for your quinoa smoothie is crucial. Consider using milk, almond milk, coconut milk, cashew milk, or yogurt, depending on your taste preferences and dietary restrictions. If you want an extra creamy texture, greek yogurt is an excellent option. For a thicker smoothie, use less liquid while adding more for a thinner consistency. Ice cubes can also be added to create a frosty, cold drink.
Boosting Your Quinoa Smoothie's Flavor
Once you have the base for your quinoa smoothie, it's time to enhance the flavor. For a natural sweetener, consider using honey, agave syrup, or even stevia. To add depth to the flavor, incorporate spices like cinnamon, nutmeg, or a dash of cardamom. For an extra twist, try adding vanilla extract or even cocoa powder to turn your quinoa smoothie into a delicious dessert-like treat!
Remember, feel free to get creative and explore various flavor combinations to create a quinoa smoothie that suits your taste buds. This recipe provides a great starting point for a protein-packed quinoa smoothie with greek yogurt and berries.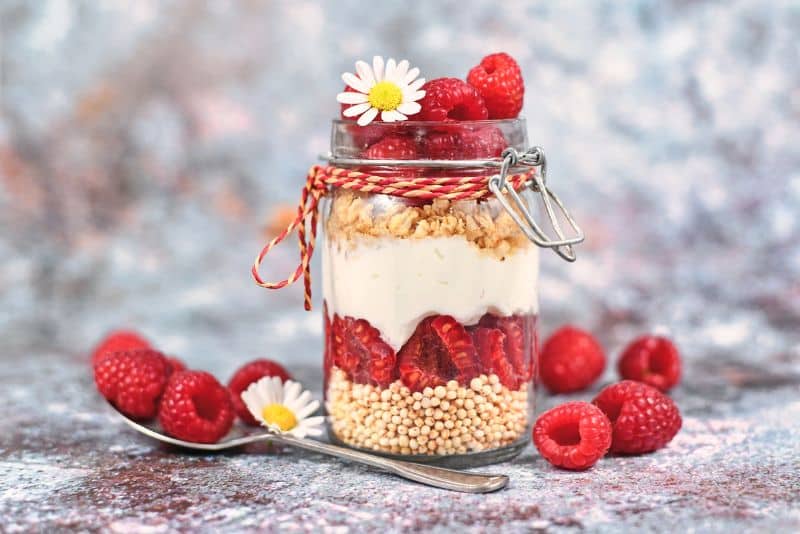 Quinoa Smoothie Preparation and Storage
Prepping and Cooking Quinoa for Smoothies
To make a quinoa smoothie, start by preparing the quinoa. Rinse it thoroughly under cold water to remove any bitterness from the grain's outer coating. Then, cook the quinoa by bringing 1 cup of quinoa and 2 cups of water to a boil. Once boiling, lower the heat and let it simmer for about 10-15 minutes, until the water is absorbed1.
Once you have your cooked quinoa, combine it with your favorite fruits, vegetables, and liquid (water, juice, or milk). A standard quinoa smoothie recipe might include:
1/2 cup cooked quinoa
1 cup of your preferred liquid
A mix of fruits and vegetables, such as spinach, bananas, or berries
Blend all the ingredients together until smooth, and enjoy a refreshing, protein-packed smoothie!
Storing and Making Ahead Quinoa Smoothies
Having cooked quinoa on hand makes it easier to whip up a smoothie whenever you want. Store leftover cooked quinoa in an airtight container in the refrigerator for up to a week. For longer storage, you can freeze cooked quinoa in portion-sized bags or containers.
When making quinoa smoothies in advance, blend everything together and store the smoothie in an airtight container in the refrigerator for up to 24 hours. If you want a smoothie that's ready to drink without blending, pour the mixture into ice cube trays and freeze them. Pop out a few cubes whenever you want a smoothie, and let them thaw in a glass in the fridge. This method works especially well for busy mornings or post-workout snacks.
Remember that the key to a great quinoa smoothie is finding the right combination of fruits, vegetables, and liquids to suit your taste buds. Experiment with different ingredients and find your favorite way to enjoy this nutritious addition to your smoothie repertoire.