Do you want a delicious, nutritious breakfast that takes just minutes to prepare? Look no further! This strawberry chia smoothie only requires 4 simple ingredients: a strawberry fruit blend, almond milk, chia seeds, and vanilla extract. And the best part is that it's so easy to make you'll be asking yourself why you haven't made one before now. Not only does this recipe taste great but it also gives your body an energy boost thanks to the omega-3s from the chia seeds and protein from the almond milk.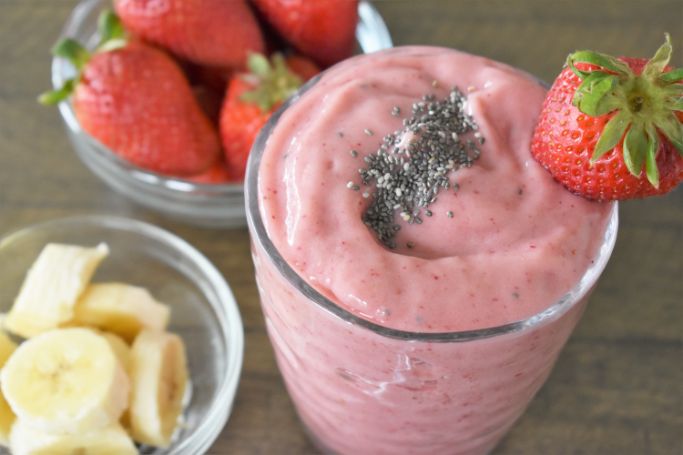 What are chia seeds, and what do they do for you?
Chia seeds are an ancient superfood that have been around for centuries. They were originally grown by the Aztecs and Mayans in Mexico, who used them as a food source and also ground them into flour to make bread. Today they're considered one of the most nutritious foods on earth!
This post contains affiliate links. We earn a small commission on these links at no additional cost to you.
This is because chia seeds are packed with omega fatty acids (the good kind!), calcium, protein, antioxidants, fiber, and more!
Although chia seeds are a great source of minerals, they are not a good source of vitamins. As for minerals, they're high in selenium, iron, and calcium, among other things.
One ounce of chia seeds gives you almost 5 grams of protein—not too shabby for something so small! Protein is needed to help build muscle mass and improve skin elasticity while providing fuel to keep your energy up throughout the day.
What's even better about these little miracle workers? They pack a whopping 11 grams of fiber per ounce! Chia seeds are an excellent source of fiber that will help you feel fuller faster and curb those cravings so you can maintain a healthier weight. Women are advised to take in 21-25 grams of fiber per day. Guess what? Chia seeds give us almost half that in just one tablespoon!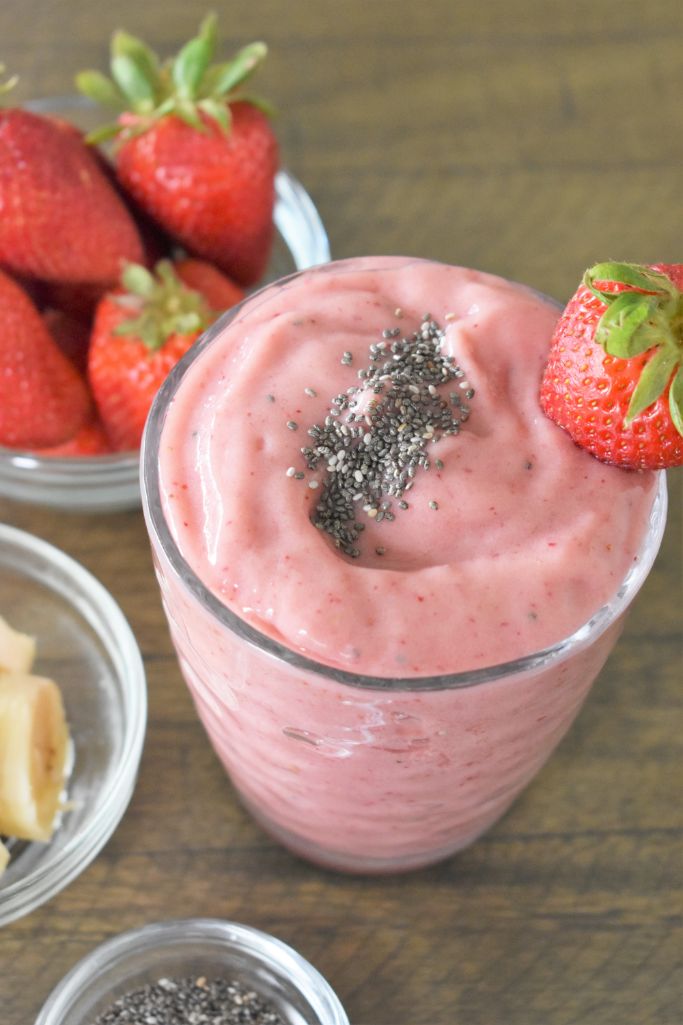 Why strawberries are great for smoothies
Strawberries are one of my favorite fruits to put in smoothies. If you'd like to try some of our others, check out, Strawberry Grapefruit Smoothie, Strawberry Banana Green Smoothie, and this Refreshing Strawberry Kiwi Smoothie.
Here are just a few reasons I love them so much:
They are rich in vitamin C.
They have a natural sweetness that balances out the other flavors of the smoothie without being overly sweet.
Strawberries blend well with other ingredients and don't get caught up on straws (if blended properly).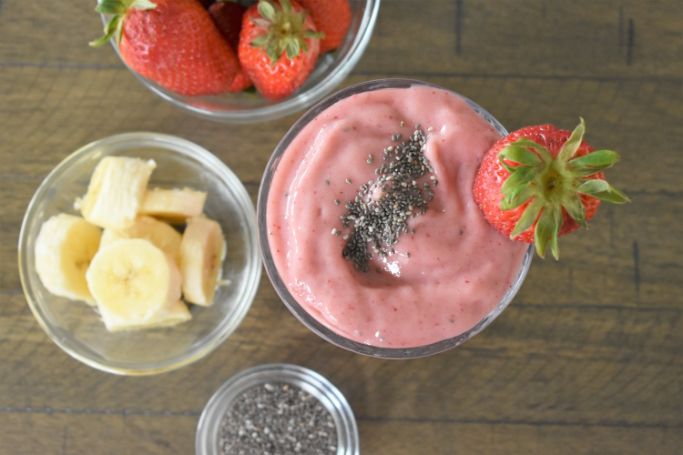 How to make a strawberry chia smoothie
Smoothies are so easy to make, especially if you start out with frozen fruits as we did here. That allows you to create a thick, frosty smoothie without watering it down with ice. Here's how to make it: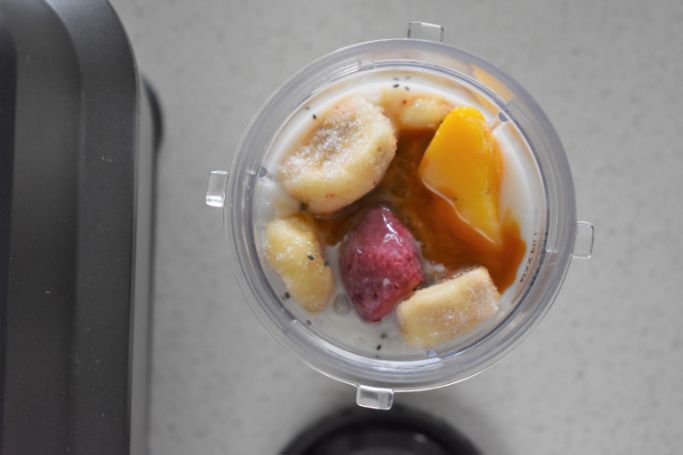 Add a strawberry fruit blend, almond milk, chia seeds, and vanilla extract to your blender.
Blend it all together until the smoothie is creamy.
Top with some whipped cream (optional) for extra sweetness!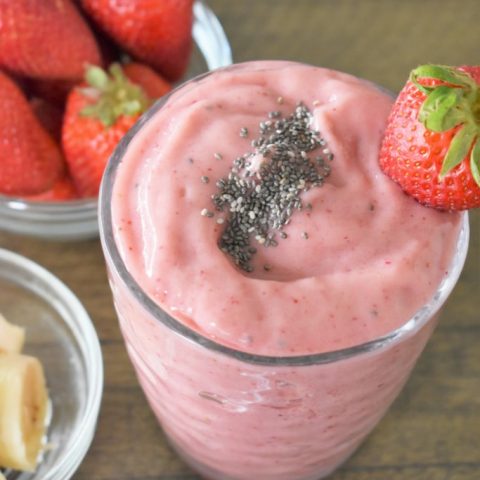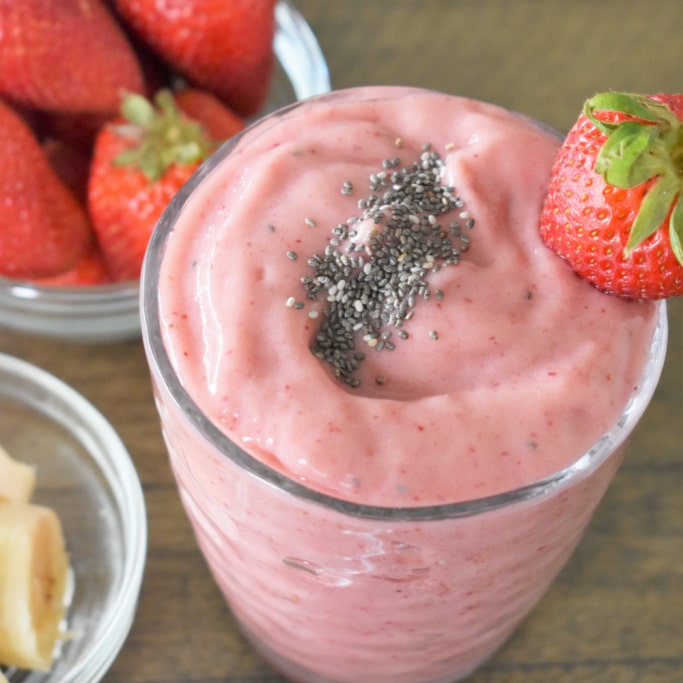 Strawberry Chia Smoothie
Additional Time:
2 minutes
Your morning just got better. This strawberry chia smoothie is the perfect way to start your day fueled with fruit, fiber and good-for-you fats.
Ingredients
1 ½ cups frozen strawberry, banana, mango blend*
1 cup vanilla almond milk
¼ teaspoon vanilla extract
Instructions
Combine strawberry, banana, mango blend, almond milk, chia seeds, and vanilla extract in a blender.

Blend until smooth (about 2 minutes) and serve.
Notes
*Any fruit blend you like will work, like a tropical blend, or just toss in your favorite berries and fruits. Frozen works best for a thick smoothie.
Options for adding more protein to the strawberry mango chia smoothie recipe
You can add a scoop of protein powder to your blender. There are many different kinds out there, so feel free to try different ones until you find one that tastes good with your favorite smoothies. I've found that vanilla protein powder works well with most smoothies, but you can also buy unflavored protein powder.
Other ways to add protein: eggs, tofu, quinoa flakes/chia seeds (you could do this with water instead of milk), nuts and nut butters, hemp hearts, Greek yogurt, etc.
More Optional Add-ins
Of course, you can add other ingredients to make this even more nutritious. Here are some suggestions:
Baby spinach is a great addition to almost any smoothie because it's full of antioxidants and other nutrients.
A couple of tablespoons of unsweetened cocoa powder will add a chocolate or mocha flavor to your smoothie, but it also provides important minerals like potassium and magnesium.
Honey is a great natural sweetener for this strawberry mango chia smoothie recipe if you find that the strawberries are still too tart on their own.