Peaches are one of my favorite fruits. They're so sweet and flavorful, and they're absolutely perfect for making fruit smoothies. If you're craving something peachy today, try this Creamy Peach Smoothie with Yogurt. It's delicious, good for you, and light on calories.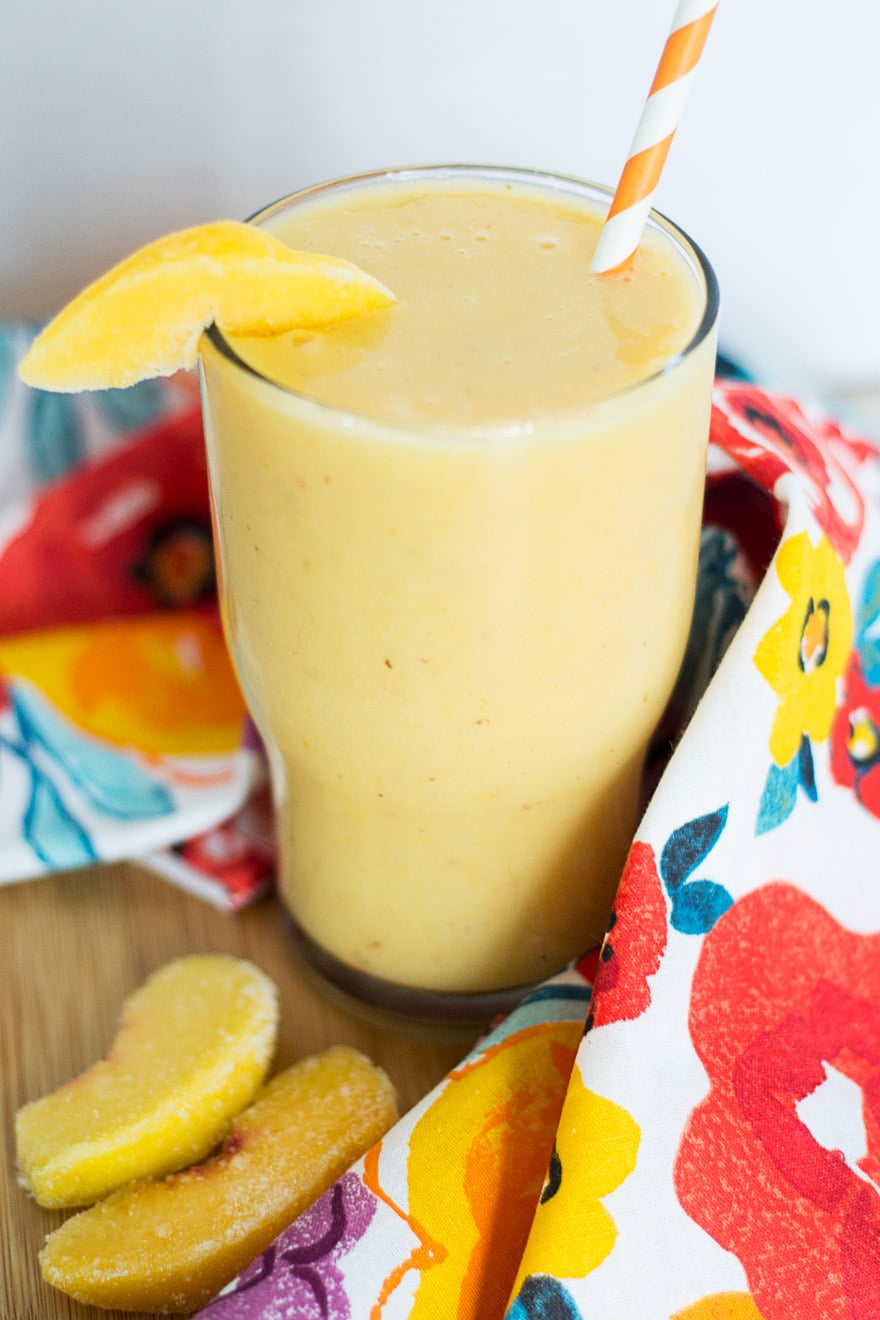 When summer comes around, I can't get enough fresh peaches. They're so juicy and tasty, and I work them into as many peach recipes as I can. But that doesn't mean that I only enjoy this peach yogurt smoothie in the summer months. It's equally delicious with frozen peaches, and since you can get those all year long, you have no reason not to try it.
This version is kind of a healthier take on peach pie. Actually, it's a healthier take on peach pie ice cream. I love peach pie ice cream (the best one I've tried is made by Pet), but considering I'm trying to lose weight, I just can't afford the extra ice cream calories. So, instead, I make this. So creamy. So yummy!
How to Make a Peach Smoothie with Yogurt
While you can technically make this peach smoothie without yogurt (just substitute a banana instead), I find the yogurt makes it extra creamy, and it jazzes up the flavor a bit, too. I use Dannon Toasted Coconut Vanilla Nonfat Greek Yogurt in almost everything, but any plain or vanilla Greek yogurt will do. Peach Greek yogurt would be fantastic, too!
Here are some tips for making the creamiest, dreamiest peach smoothie with yogurt:
Step 1 – Blend the liquids (including honey and yogurt) and spices together first to make sure they're evenly dispersed.
Step 2 – Add the frozen peach slices, and blend an additional 60-90 seconds until the smoothie is thick and creamy.
Step 3 – Sweeten with additional honey or a sugar substitute of your choice if it's not sweet enough for you as is.
I found it's plenty sweet, but I prefer the natural sweetness of most fruits to overly-sweetened versions.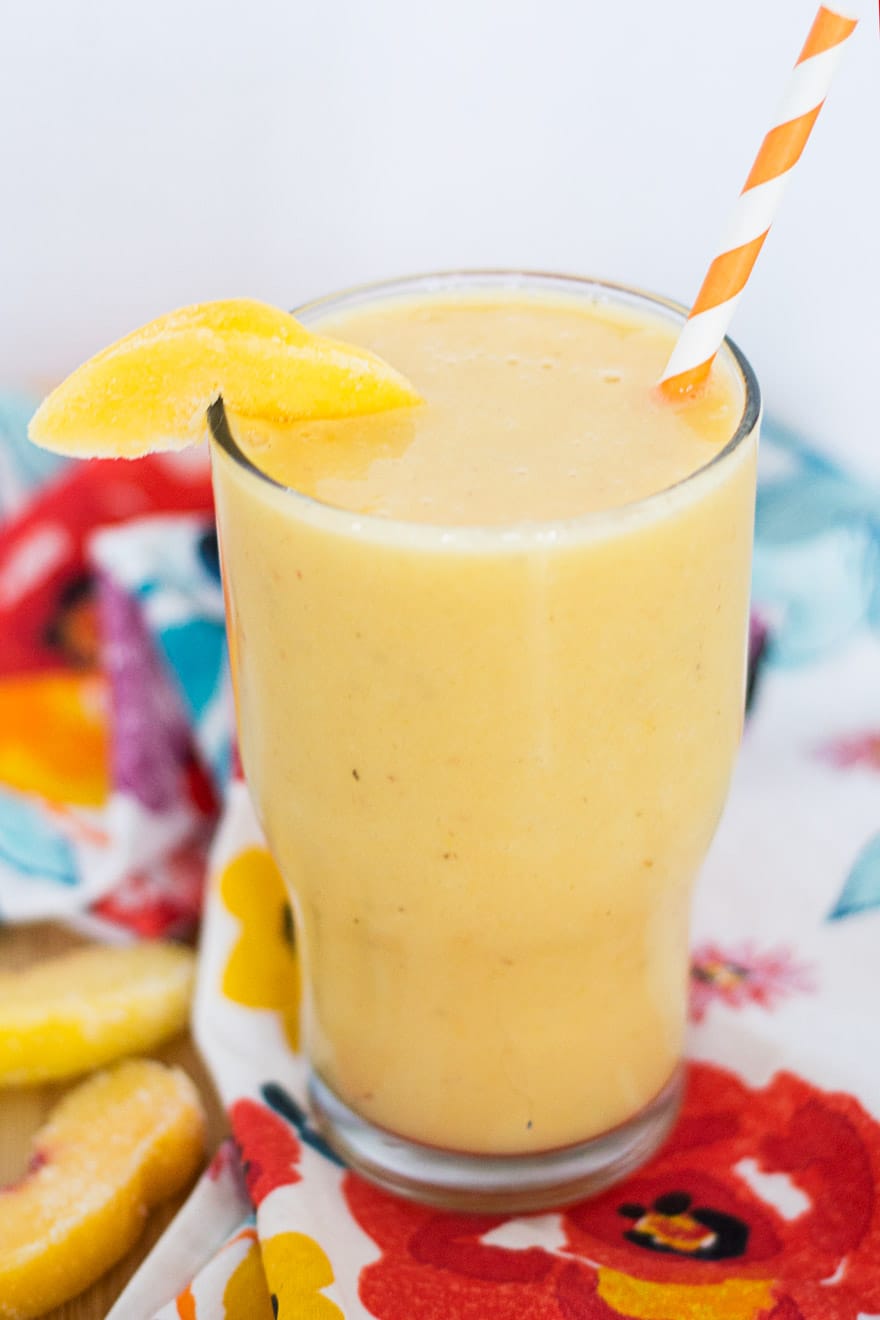 Healthy Peach Smoothie with Yogurt Recipe
Now you're all set to make this smoothie yourself. Print out the recipe card below for the exact measurements and directions you'll need to make a creamy peach smoothie you'll want again and again.
Creamy Peach Smoothie with Yogurt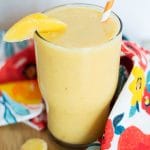 This creamy peach smoothie with yogurt tastes like peach pie in a glass (but healthier)! It's great as a morning meal on the go or as a refreshing drink any time of day. And at under 200 calories, you don't have to feel guilty about it.
1/2 cup unsweetened almond milk
1/2 cup nonfat vanilla Greek yogurt
1 cup frozen peaches
1/4 teaspoon vanilla extract
1/8 teaspoon ground cinnamon
pinch of ground nutmeg
pinch of ground ginger
1 tsp. honey
Add almond milk, Greek yogurt, vanilla extract, spices and honey to blender. Blend for 20-30 seconds, until spices are evenly mixed in.
Add frozen peaches and blend for an additional 60-90 seconds or until smooth and thick.
Sweeten with another teaspoon or two of honey, if desired.
If you liked this peach smoothie recipe, you'll also enjoy: