Craving a tropical getaway? Blend up this Pineapple Avocado Smoothie for a creamy, dreamy treat that's as nourishing as it is delicious!

Looking for a taste of the tropics without leaving your kitchen? You've got to try this pineapple avocado smoothie! It's a delicious mix of sweet, creamy, and tropical that's perfect for breakfast or a midday pick-me-up. Trust me, one sip and you'll feel like you're on vacation.
But what really makes this avocado pineapple smoothie special is how it hits all the right notes. The avocado gives it a creamy, dreamy texture, while the pineapple adds a pop of sweetness and zest. Top it off with some toasted coconut, and you've got more than just a smoothie—you've got a little glass of paradise!
So, what are you waiting for? Let's blend up a vacation in a glass!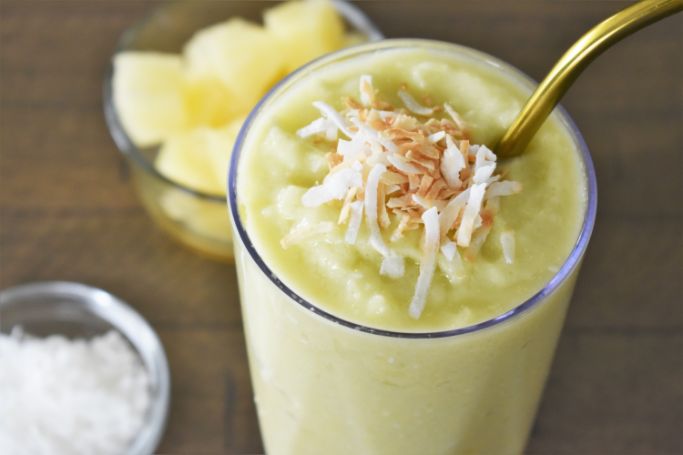 Ingredients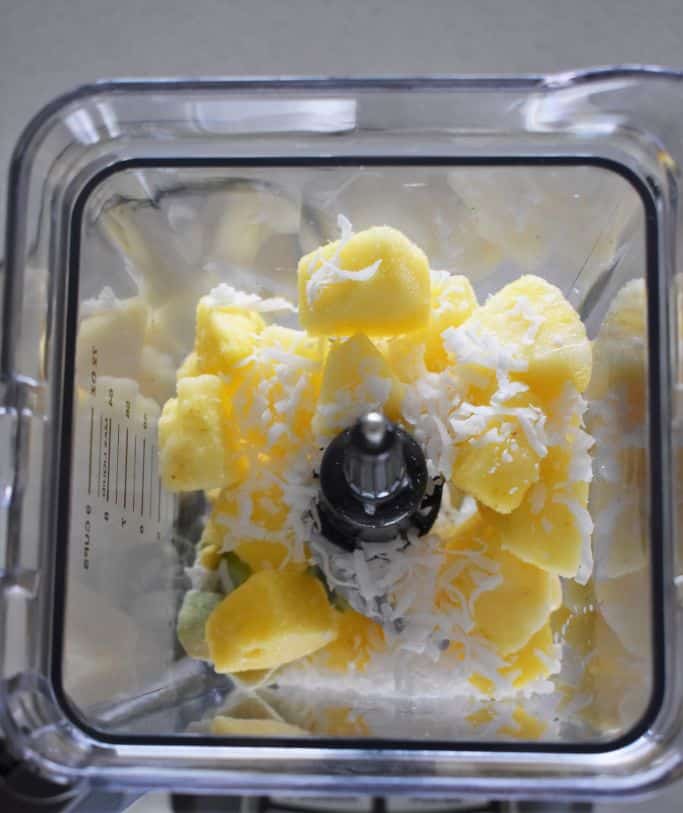 Fresh Pineapple — Adds natural sweetness and a tropical flair. Pineapple is also rich in vitamin C and enzymes that aid digestion.
Frozen Avocado — Provides creaminess and healthy fats, making the smoothie more filling. Avocado also adds a dose of fiber and nutrients like potassium.
Coconut Milk — Gives the smoothie a rich, creamy texture and a hint of coconut flavor. It's also a great dairy-free alternative.
Coconut Flakes — Adds texture and an extra layer of coconut flavor. Plus, they look pretty when garnishing! If you're garnishing with toasted coconut, it adds a bit of crunch and delicious toasty flavor.
Raw Honey — Sweetens the smoothie naturally and offers some antioxidants. You can adjust the amount to your taste.
Equipment Needed
Ready to blend up your pineapple and avocado smoothie? Here are the tools you'll need:
Blender
Measuring cups
Measuring spoons
Two glasses for serving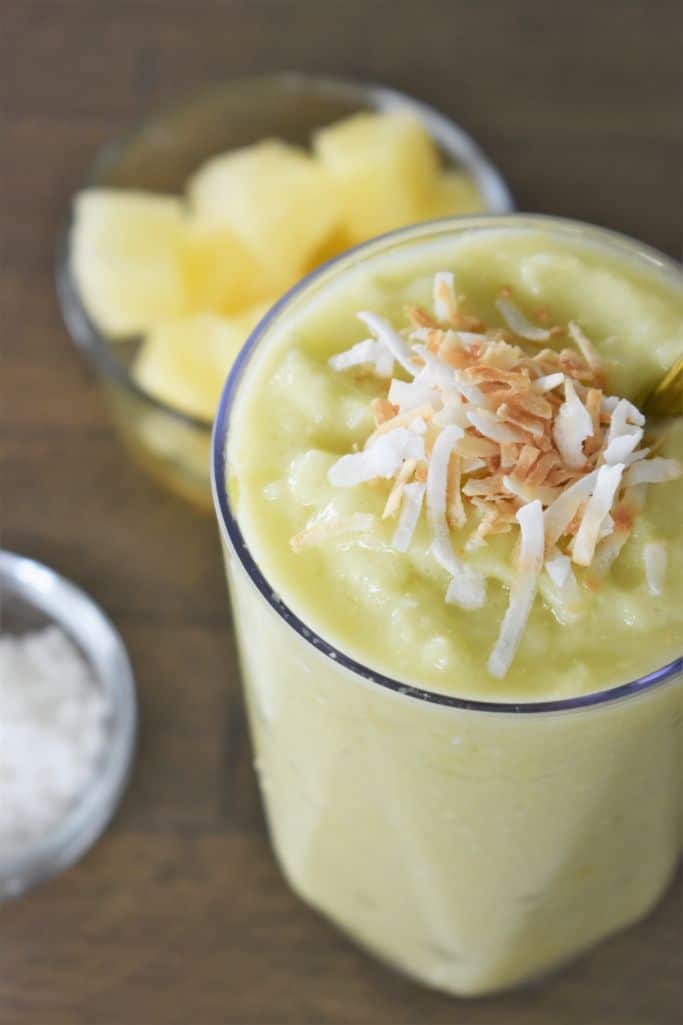 How to Make a Pineapple Avocado Smoothie
Combine the Ingredients: Toss in your pineapple chunks, frozen avocado, coconut milk, coconut flakes, and ice cubes into the blender. These are the core ingredients that will make your smoothie a tropical paradise in a glass.
Blend it Up: Secure the blender lid and start blending. Keep it going until all the ingredients are well-mixed and you've got a smooth, creamy texture.
Adjust Consistency: If your smoothie is thicker than you'd like, feel free to add a splash more of coconut milk. Blend again briefly to incorporate the extra liquid.
Taste and Sweeten: Give your smoothie a quick taste. If it needs a little more sweetness, add a tablespoon of raw honey and blend again for a few seconds.
Pour and Garnish: Once you're happy with the taste and texture, go ahead and pour the smoothie into two glasses. Sprinkle some toasted coconut on top for that extra crunch and a dash of gourmet flair.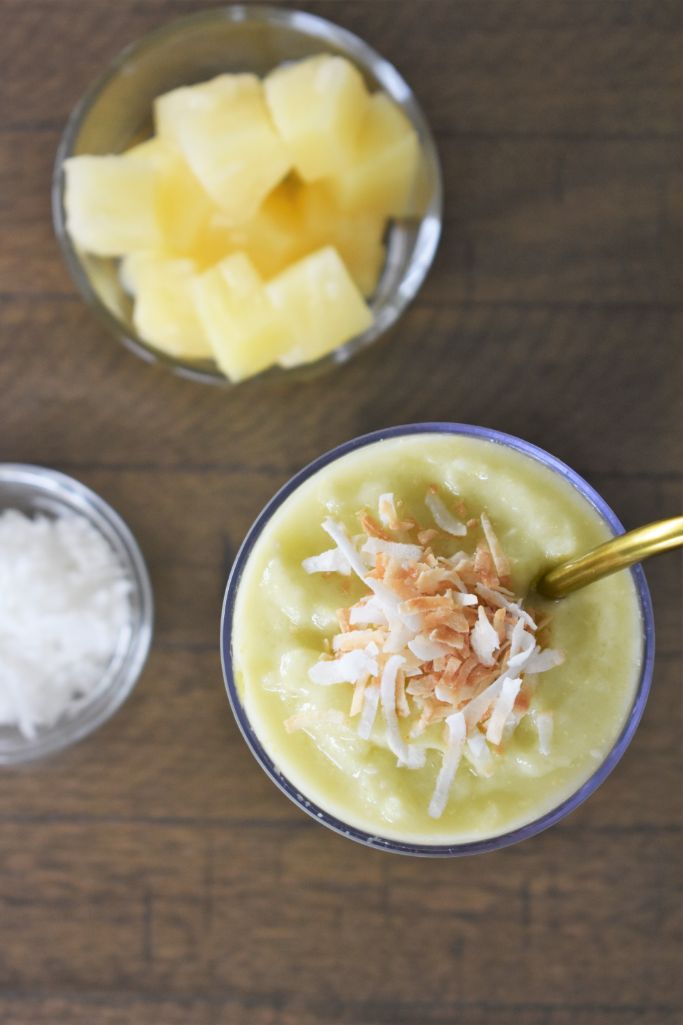 Serving Suggestions
This Pineapple Avocado Coconut Smoothie pairs wonderfully with a light breakfast like a fruit salad or granola and yogurt. It's also a fantastic companion to a poolside afternoon or a post-workout snack to replenish your energy. If you're feeling extra fancy, serve it with a colorful paper umbrella or a slice of pineapple on the rim for that ultimate tropical vibe!
Storage and Freezing
Refrigerator: Pour any leftover smoothie into an airtight container and store it in the fridge. It's best to consume it within 24 hours to maintain the freshness and flavor. Give it a good shake or a quick blend before serving, as the ingredients may separate over time.
Freezing: If you'd like to make this smoothie ahead of time, you can freeze it in individual portions using silicone molds or ice cube trays. Once frozen, transfer the smoothie cubes to a zip-top bag and store in the freezer. When you're ready to enjoy, simply blend the frozen cubes with a splash of coconut milk to bring it back to life.
Avocado Pineapple Smoothie Tips and Tricks
Chill Your Glasses: Pop your serving glasses in the freezer for about 10 minutes before you're ready to pour. This will keep your smoothie colder for longer!
Use Frozen Pineapple: If you want an even colder, slushier texture, consider using frozen pineapple chunks instead of fresh. This also eliminates the need for ice, making your smoothie even more flavorful.
Blend in Stages: If your blender struggles with frozen ingredients, start by blending the coconut milk and avocado first to create a smooth base. Then add the pineapple, ice, and other ingredients.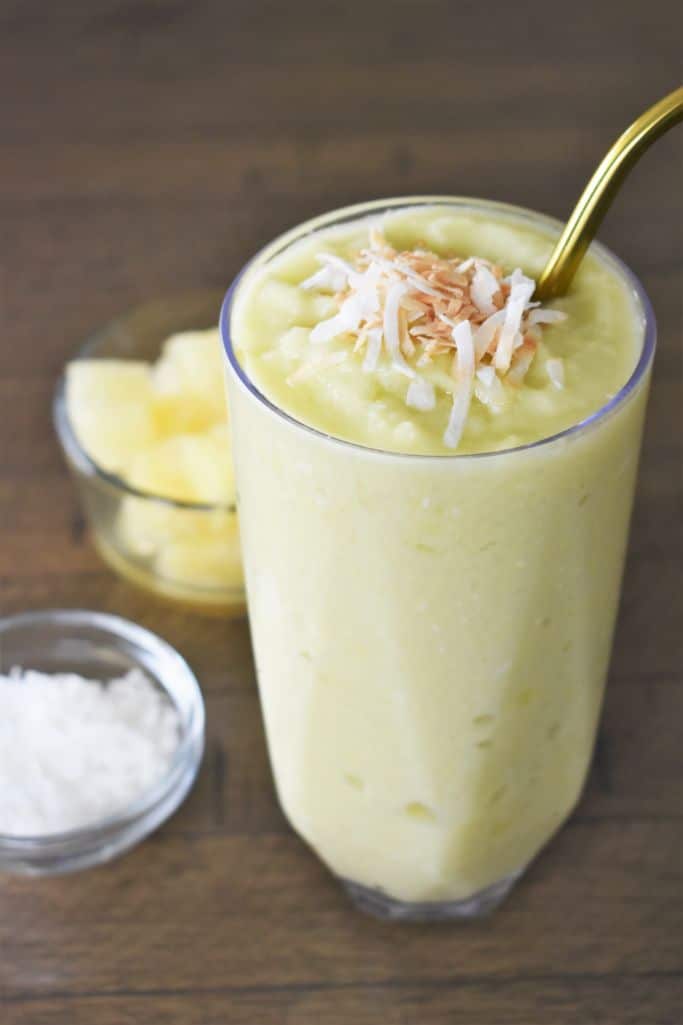 Additions and Variations
Customize Your Toppings: Don't limit yourself to toasted coconut. Feel free to garnish with a sprinkle of chia seeds, a dollop of Greek yogurt, or even a drizzle of extra honey for added sweetness and texture.
Nutritional Boost: Want to make your smoothie even healthier? Consider adding a spoonful of protein powder or a handful of spinach. It won't dramatically change the flavor but will add some extra nutrients.
Spice it Up: A pinch of cinnamon or a dash of nutmeg can add a warm, spicy note to your smoothie.
Protein Boost: If you're looking for a post-workout snack, add a scoop of your favorite protein powder.
Pineapple Avocado Smoothie FAQ
Can I use fresh avocado instead of frozen?
Yes, you can. Fresh avocado will work just fine, but the texture of the smoothie may be slightly less thick. If you're using fresh avocado, you might want to add a few extra ice cubes to achieve that creamy, chilled texture.
Is there a substitute for coconut milk?
Absolutely! If you're not a fan of coconut milk or have an allergy, you can use almond milk, oat milk, or even regular dairy milk. Just note that the flavor will change slightly depending on the milk you choose.
Can I make this smoothie sugar-free?
Of course. If you're looking to cut down on sugar, you can omit the raw honey. The pineapple chunks should provide enough natural sweetness, but you can also use a sugar-free sweetener like stevia if you prefer.
More Pineapple Smoothie Recipes
Love pineapple smoothies? Try one of these delicious drinks!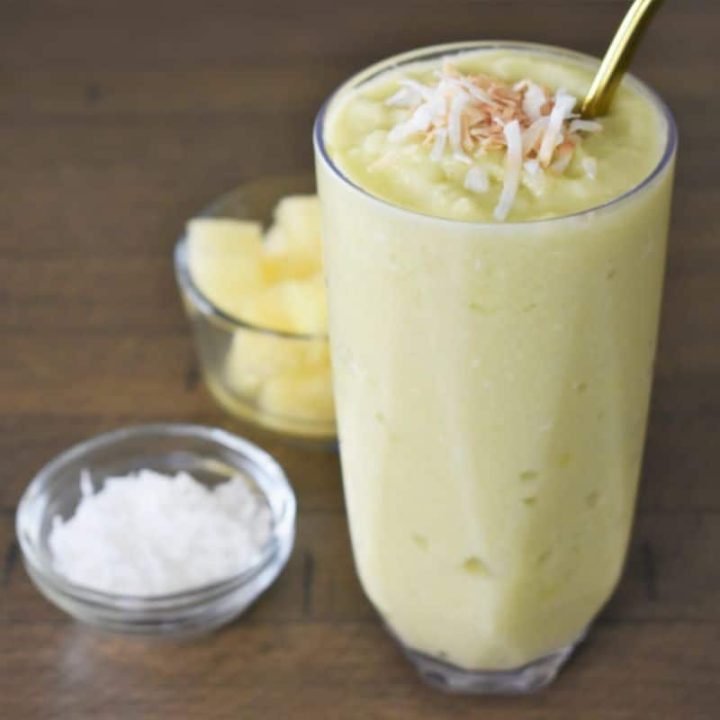 Easy Pineapple Avocado Smoothie
Craving a tropical getaway? Blend up this Pineapple Avocado Coconut Smoothie for a creamy, dreamy treat that's as nourishing as it is delicious!
Ingredients
2 cups pineapple chunks
½ cup frozen avocado
½ cup coconut milk
2 tablespoons coconut flakes
1 cup ice
1 tablespoon raw honey
1 tablespoon Toasted coconut for garnish
Instructions
Combine the pineapple chunks, coconut milk, frozen avocado, coconut flakes, and ice in a blender.
Blend the ingredients until smooth. If it's too thick, thin it out with a little coconut milk.
Pour the pineapple avocado smoothie into two glasses and serve.
Nutrition Information:
Yield:

2
Serving Size:

1
Amount Per Serving:
Calories:

399
Total Fat:

21g
Saturated Fat:

14g
Trans Fat:

0g
Unsaturated Fat:

6g
Cholesterol:

0mg
Sodium:

41mg
Carbohydrates:

57g
Fiber:

6g
Sugar:

48g
Protein:

3g
Nutritional data is an estimate only. For more accurate nutritional information, please input the exact ingredients and amounts you used into your own calculator.