Relax with a tropical drink in hand to feel like you're in your favorite vacation spot. Okay, so you may not be on the beach with your toes in the sand, but this tropical breakfast smoothie with pineapple, banana and coconut milk is a sweet treat that will make you feel like you're in the tropics, anyway. Check out our other tropical smoothies while you're here!
Tropical Smoothie Breakfast
One of my favorite ways to make a smoothie more filling for breakfast (instead of just enjoying it as a tasty beverage) is by adding oatmeal. It thickens it up and seems to keep me full longer than smoothies without oats. But if you don't like the consistency of a smoothie with oatmeal, just skip that ingredient! All of these recipes work just fine without it.
And with pineapple, banana, orange juice and coconut milk, the kids are going to devour these smoothies. Make them into popsicles in the summer… what a treat!
Tropical Breakfast Smoothie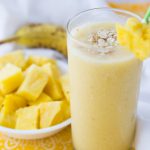 Feel like you're on vacation while drinking this delicious tropical breakfast smoothie!
3 cups frozen chopped pineapple
1 banana (frozen)
1 c. orange juice
1 cup unsweetened coconut milk or almond milk
1/3 cup old fashioned oats or rolled oats
Add liquids (orange juice and milk) to the blender first, followed by the frozen fruit and the oats.
Blend and pulse for 1-2 minutes or until smooth.
If the fruit is not frozen, add 1-2 cups of ice to thicken the smoothie.
While this is one of my favorite smoothies for the summer, it's good all year round. I use fresh pineapple when I can. I buy several at once (because cutting them is no fun), chop them up and put them in baggies in the freezer. But if you're in a pinch, the chopped pineapple from a can works great, too. Just drain the pineapple juice before freezing or else you'll end up with a big glob of fruit that's pretty difficult for your blender to liquify if it's a small one.
Of course, if you're not using frozen fruit, you can add a cup of ice to the blender along with your smoothie ingredients to chill it and make it thicker.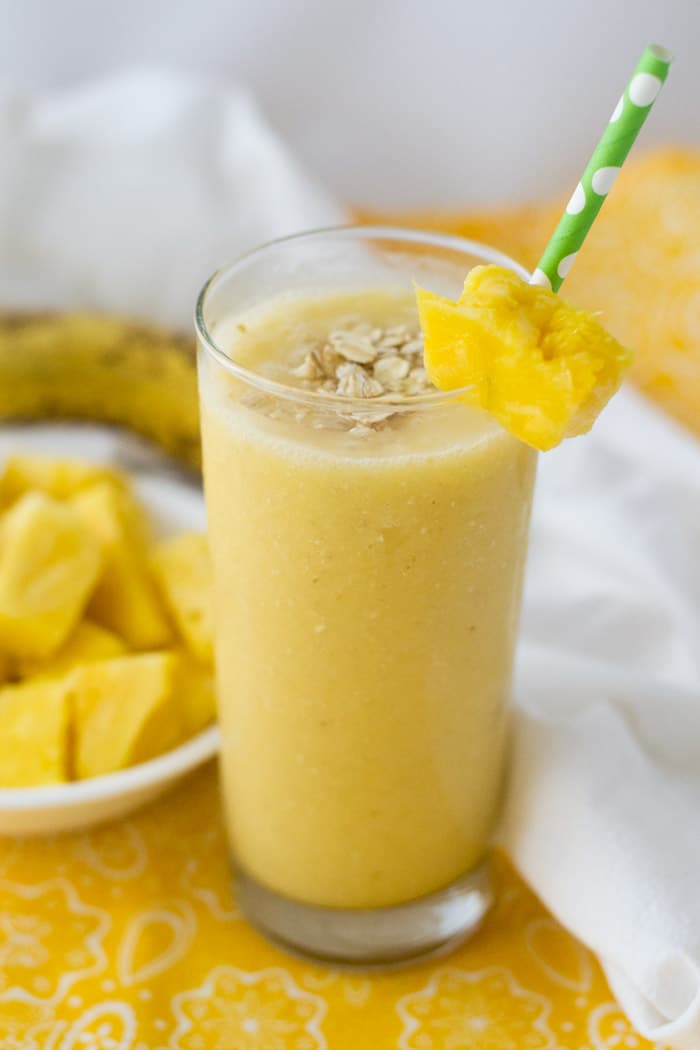 If you liked this Tropical Breakfast Smoothie, you may also enjoy: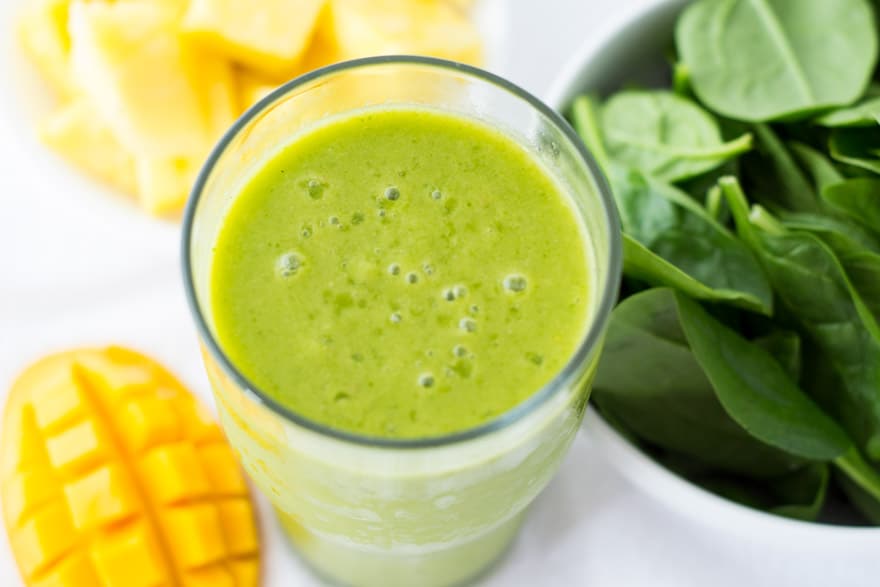 Pineapple Mango Green Smoothie