This Carrot Apple Ginger Smoothie is spicy, delicious and good for you in so many ways. It has plenty of fiber, so it's good for digestion, and the Vitamin A from the carrots is terrific for your skin. Drink this spicy smoothie on a fall or winter night. It tastes yummy cold or warm.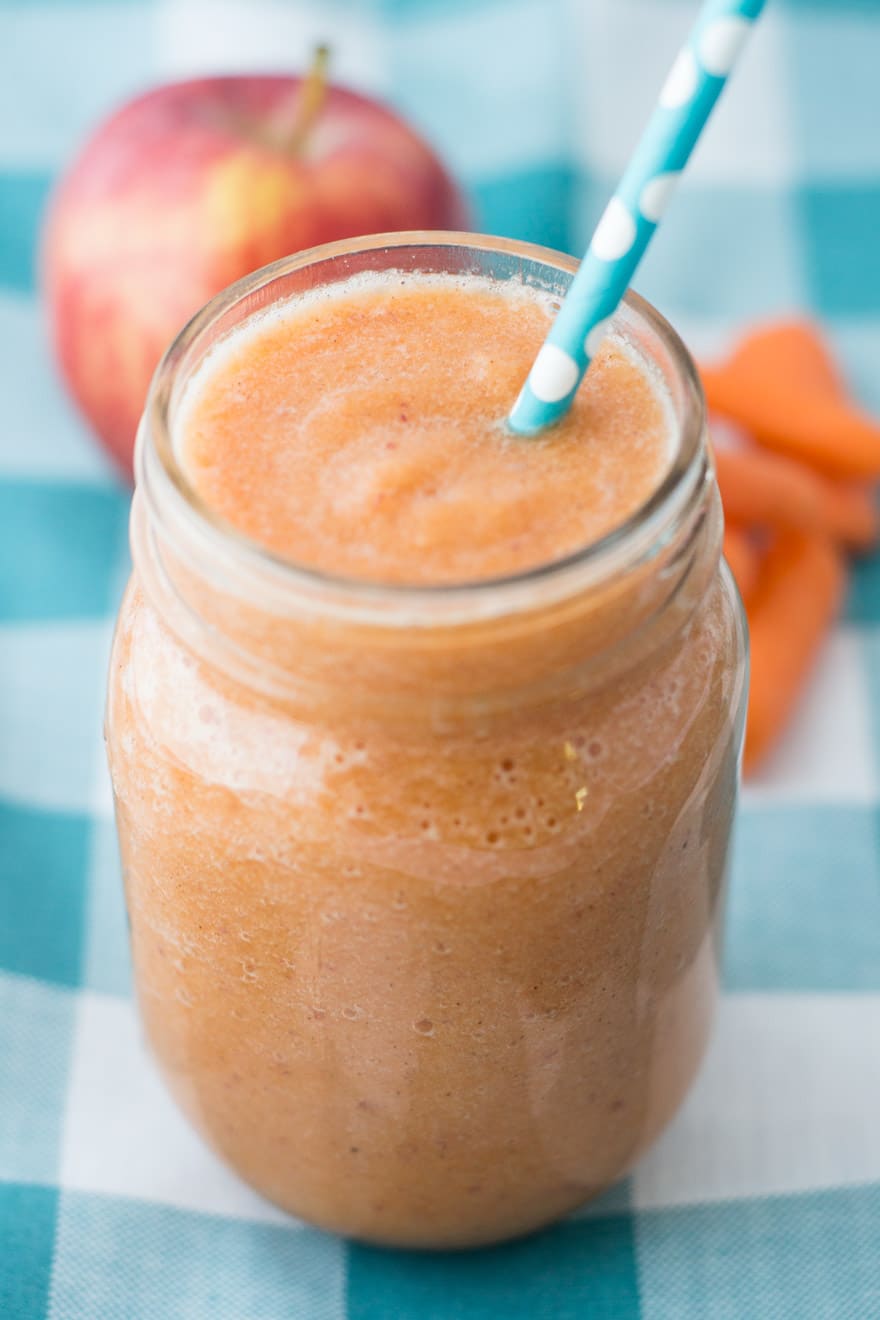 Carrot Apple Ginger Smoothie Recipe
When I made this smoothie, it immediately reminded me of fall. And while it's a cold January day here, I still enjoyed the spiciness of the ginger paired with the sweetness of the apple and banana. It was a great combination!
I'm one of those strange folks who doesn't care for apples. I don't dislike them, but I don't love them either. They've just never been my jam. But in an effort to eat more fiber and to eat more healthy fruits and veggies in general, I thought, "Why not add the apples to your smoothies?" Yeah, it's so much better!
And carrots are at the top of my fave veggies list, so this recipe was a no-brainer.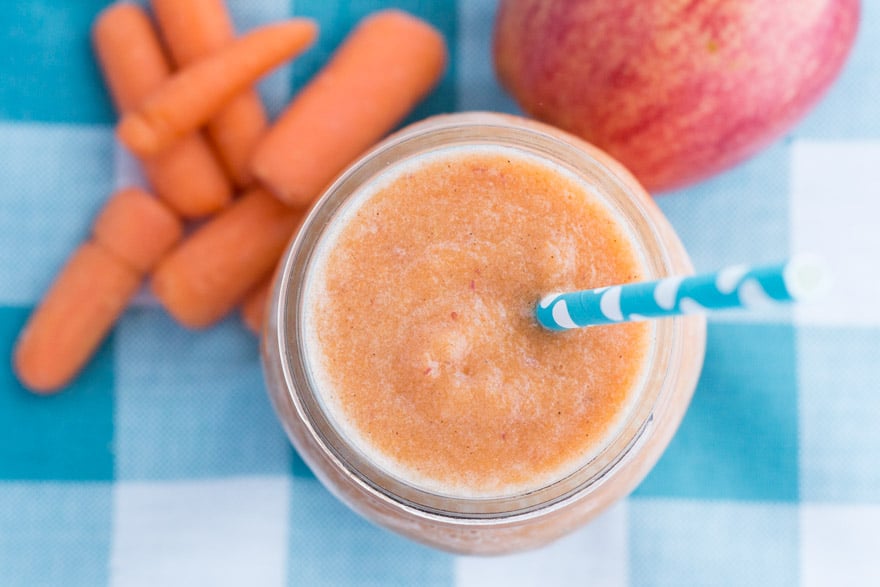 If you want to make this fruit and veggie smoothie more kid-friendly, skip the ginger. My son didn't like the spicy flavor, but when he tried it without the ginger, he enjoyed it very much.
If this is your first time putting fresh ginger in a smoothie, start with about half the recommended amount, and then bump it up from there according to your own tastes. It can be overwhelming if you add too much!
Carrot Apple Ginger Smoothie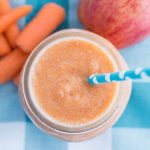 Get a healthy dose of fiber and some skin-boosting Vitamin A in this spicy, delicious Carrot Apple Ginger Smoothie. It's perfect for fall and winter!
1 c. baby carrots
1/2 – 1 " ginger (about 1 tablespoon freshly grated ginger)
1 apple (cored and chopped)
1 banana (peeled)
juice from half a lemon
1/2 c. ice
1/2 c. water
Add water, lemon juice, banana, carrots, apple and ginger to blender. Blend for about 30 seconds.
Add 1/2 c. – 1 c. ice to thicken according to taste. Blend an additional 30-60 seconds.
Make sure you give this smoothie a little extra blending time to smooth out all the ingredients. If it's too thick for your liking you can thin it out with a little water or apple juice.
For more fruit and veggie smoothies, check out: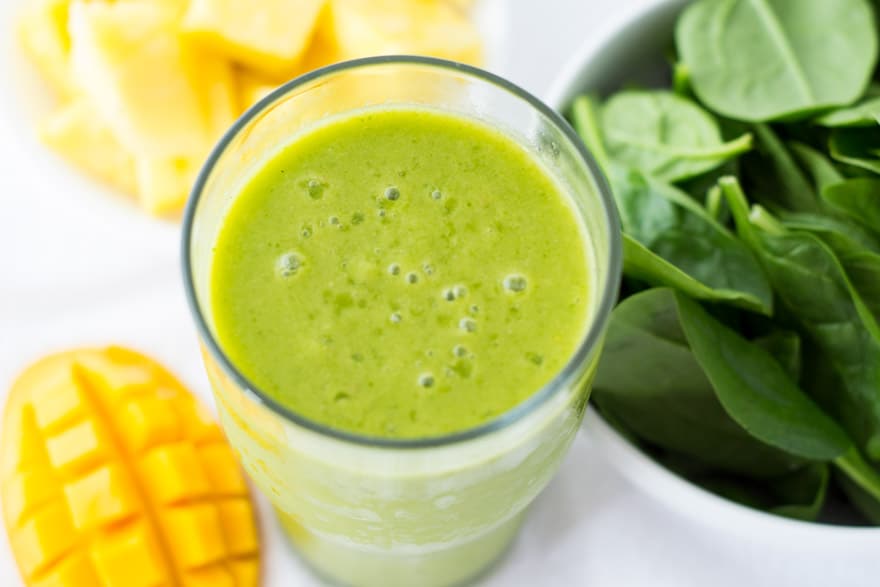 Pineapple Mango Smoothie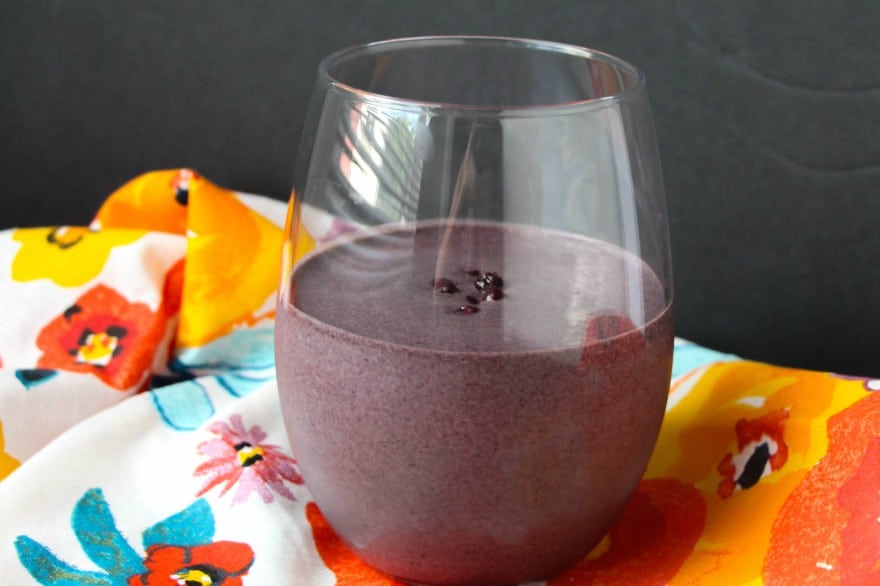 Blueberry Spinach Smoothie