Do you ever find yourself torn between wanting to dive into that chocolate lava cake or sipping on something that doesn't make your jeans feel two sizes too small? Well, guess what? There's no need to make that Sophie's choice anymore! Let's whip up some delectable desserts in their slimmer, trimmer cousin form – the healthy smoothie. Ready to blend? Here we go!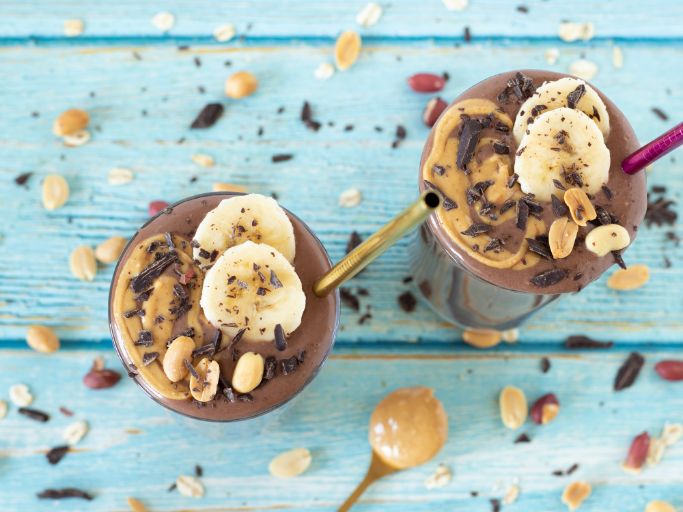 1. Tres Leches Marvelous-ness
Ah, the rich, creamy goodness of a homemade Tres Leches cake. How could we possibly transform this into a drinkable delight without all the guilt? Impossible right? Well, maybe not…
Ingredients: 1 cup of almond milk (because tres leches means three milks, and we're sticking to the theme, okay?), a dollop of Greek yogurt, a splash of coconut milk, a dash of vanilla extract, and a sprinkle of cinnamon.
How-To: All you have to do is blend everything up until it is totally smooth and velvety. You'll get that creamy cakey flavor we all know and love, just without all the added sugars and fats.
2. Choco-Mint Dream
Yes, those of you who love a nice after-dinner treat can still have that treat, only in healthy smoothie form – it doesn't get much better than that now, does it?!
Ingredients: 1 cup of spinach (for that green goodness), a few fresh mint leaves, 1 tablespoon of cocoa powder, 1 cup of unsweetened almond milk, and a touch of honey or stevia for sweetness.
How-To: Blast it in the blender until smooth and savor the guilt-free choco-mint goodness. It's as simple as that!
3. Berry Cheesecake Bliss
Who said cheesecake was only for special occasions? You can have your cake and eat it without expanding your waistline with this simple smoothie recipe!
Ingredients: A handful of mixed berries, ½ cup of cottage cheese (yup, you read that right), a splash of almond milk, a little vanilla extract, and maybe a squirt of honey if you like it sweet.
How-To: Get blending! The cottage cheese gives you that creamy cheesecake texture, and the berries add that tangy sweetness, and you will only need to blend for a few seconds to get perfect results
4. Peanut Butter Cup Pleaser
Peanut butter + Chocolate = A match made in heaven, but Reese's Pieces aren't exactly great for your waistline or your general health, so how about a healthy drink instead?
Ingredients: 1 tablespoon of natural peanut butter, 1 tablespoon of unsweetened cocoa powder, 1 banana (for creaminess and sweetness), 1 cup of almond milk, and perhaps a little honey if you want extra sweetness.
How-To: Blend and indulge in the creamy, nutty, chocolaty delight without the guilt trip.
5. Tropical Piña Colada Paradise
Who doesn't dream of a beachside piña colada? Let's make it breakfast-appropriate.
Ingredients: 1 cup of frozen pineapple chunks, a dollop of Greek yogurt, a splash of coconut milk, and a touch of honey.
How-To: Whizz it all together and, voila, instant tropical vacation in a glass!
Bottoms Up!
There you have it, folks, your favorite desserts magically turned into waistline-friendly smoothies. These recipes are all about compromise without sacrifice. So, the next time that dessert craving hits, just plug in your blender and sip your way to satisfaction! Cheers to that!