This cantaloupe kiwi papaya smoothie is a nutritional powerhouse with lots of good for you fruits that promote healthy digestion, weight loss and immunity.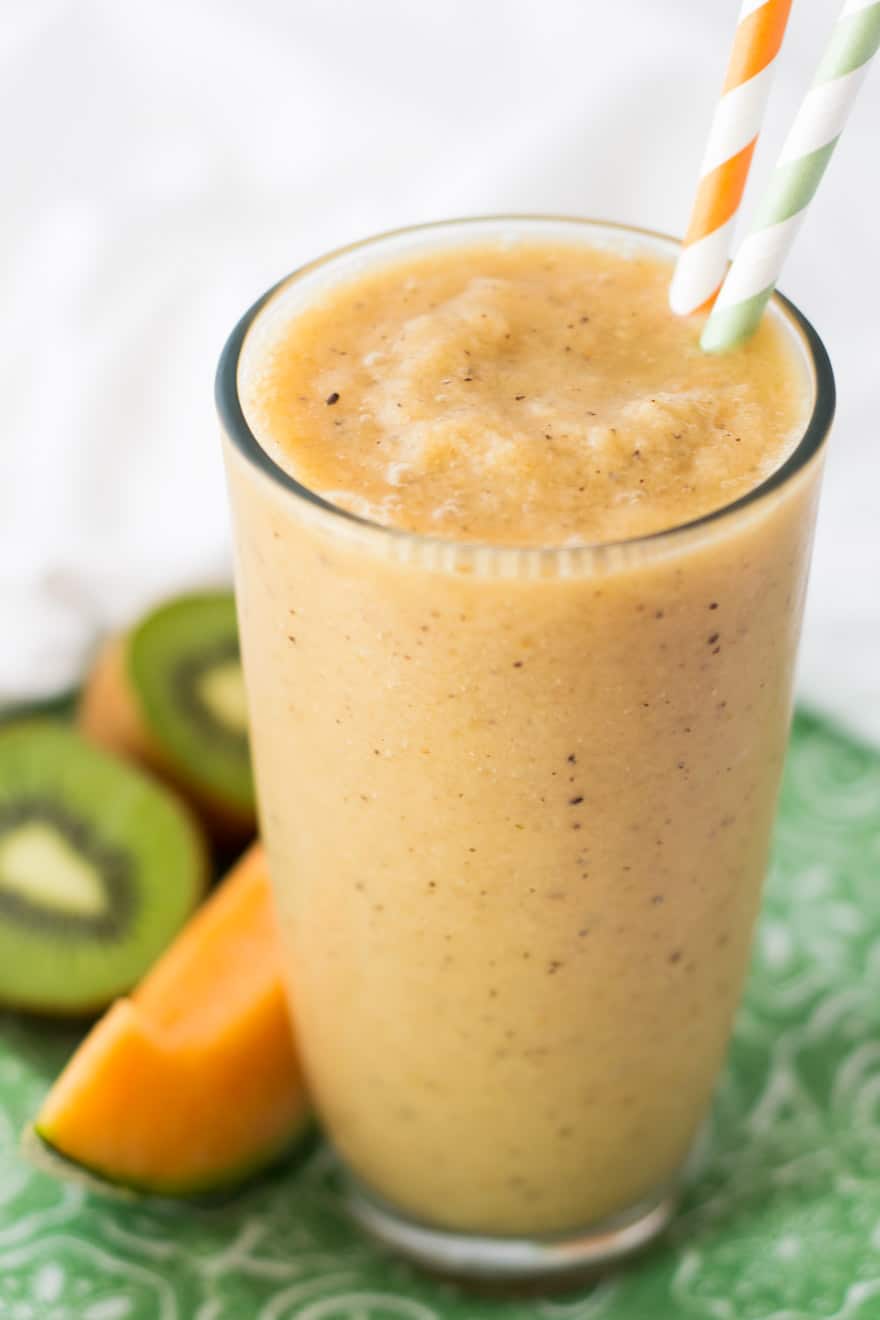 Cantaloupe Kiwi Papaya Smoothie Recipe
When summer's here, I just can't get enough cantaloupe. It has such a sweet and smooth flavor that's just perfect for smoothies. Try our Creamy Cantaloupe Smoothie if you haven't already!
Not only does cantaloupe taste good, though. It's so good for you as a source of vitamins A and C, beta-carotene, potassium and many other nutrients. So cantaloupes promote good eyesight, heart health and immunity!
Kiwi fruit are a good source of vitamin C to help with the immune system and lutein, which may decrease the risk of eye disease.
And what about the papaya? It aids in digestion because if its papain content, and has 16% more vitamin C than oranges! Papaya are also a great source of vitamin A.
So, as you can see, the vitamins and minerals you get from this smoothie are well worth the five minutes or so it takes to prep the fruit and make it!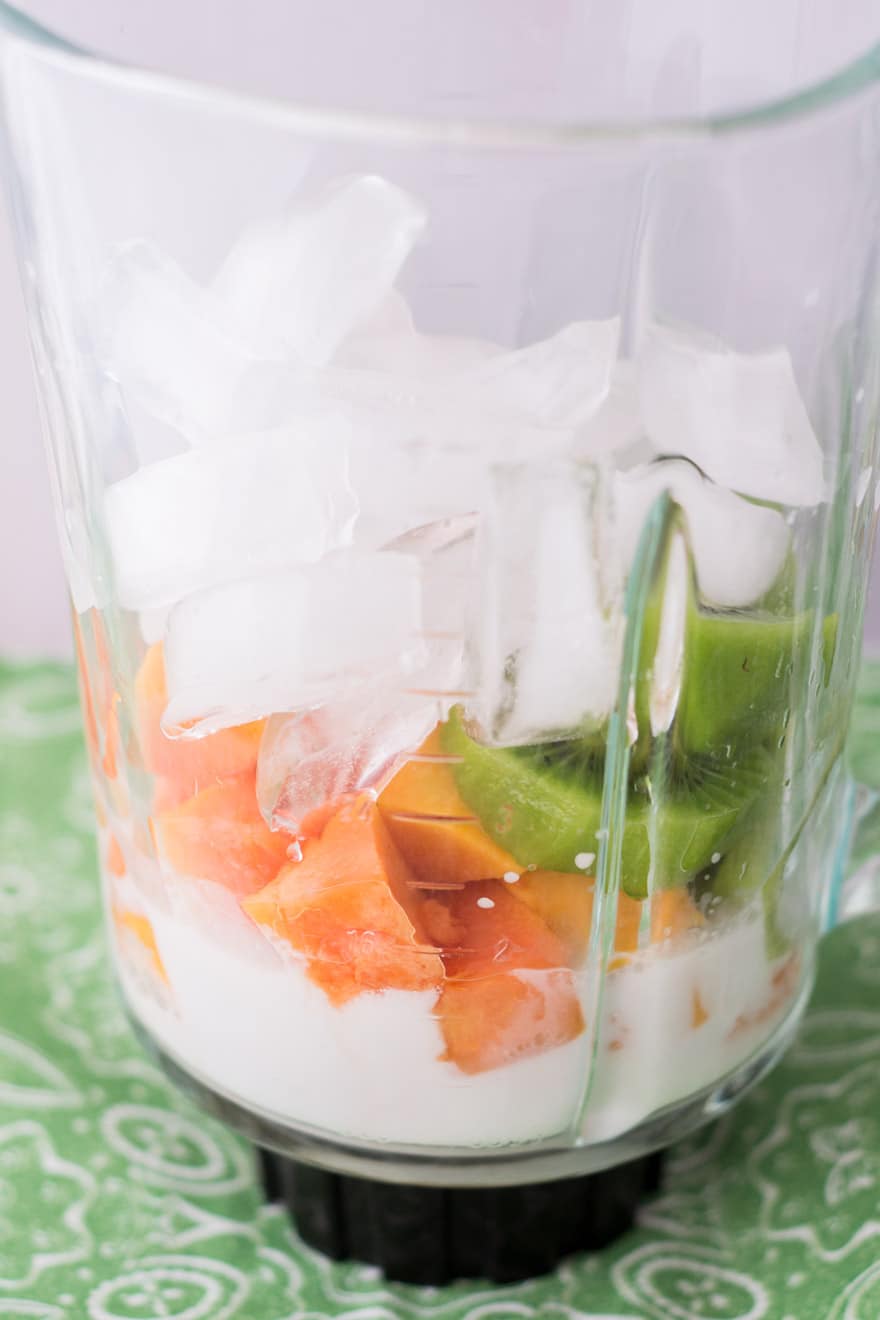 Smoothie Tips:
Because cantaloupe, papaya and kiwi are sort of "watery" fruits, I really recommend freezing the fruits for a few hours before making your smoothie if you can spare the time. This will save you from needing ice, and the flavor won't be so watered down. But, you can add ice if you're in a pinch and want your smoothie nice and thick. That's what I did, and the flavor was just fine, even with the ice.
Ready to make it? Here's the recipe!
Cantaloupe Kiwi Papaya Smoothie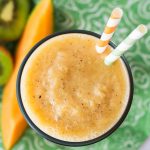 This cantaloupe kiwi papaya smoothie is a nutritional powerhouse! The fruits in this drink are great for digestion, weight loss and immunity.
1 c. cantaloupe
1 c. papaya
1 kiwi fruit (peeled)
1/2 c. nonfat vanilla Greek yogurt
pinch of cinnamon
1 c. ice (optional)
Add fruit pieces to blender along with yogurt and a pinch or two of cinnamon.
Blend about 30-45 seconds, until smooth.
For a thicker smoothie, add about 1/2 cup to 1 cup ice. For best results, omit ice and use frozen fruit instead.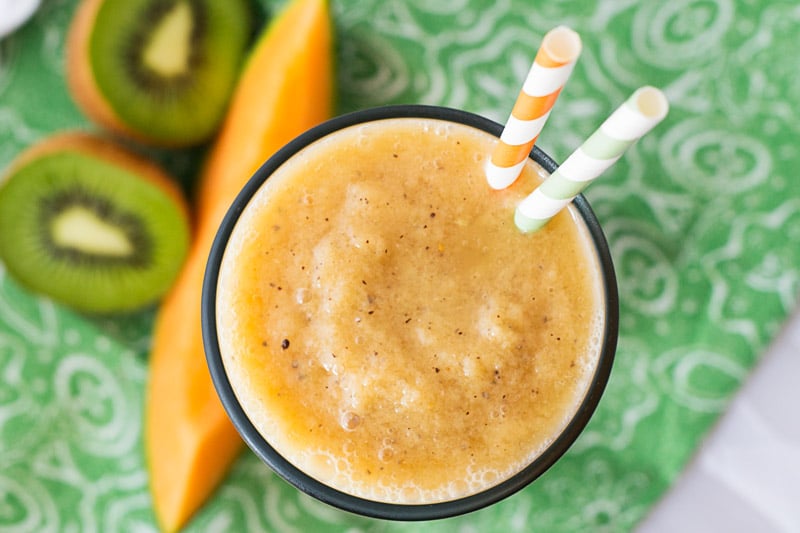 If you liked this kiwi papaya smoothie, you should also try the following recipes!