Refresh yourself this summer with this creamy cantaloupe smoothie recipe! With both cantaloupe and coconut, it's a sweet, delicious drink that'll make you feel like you're on vacation. It's made with coconut milk, so it's also dairy-free for those of you with allergies. Drink up!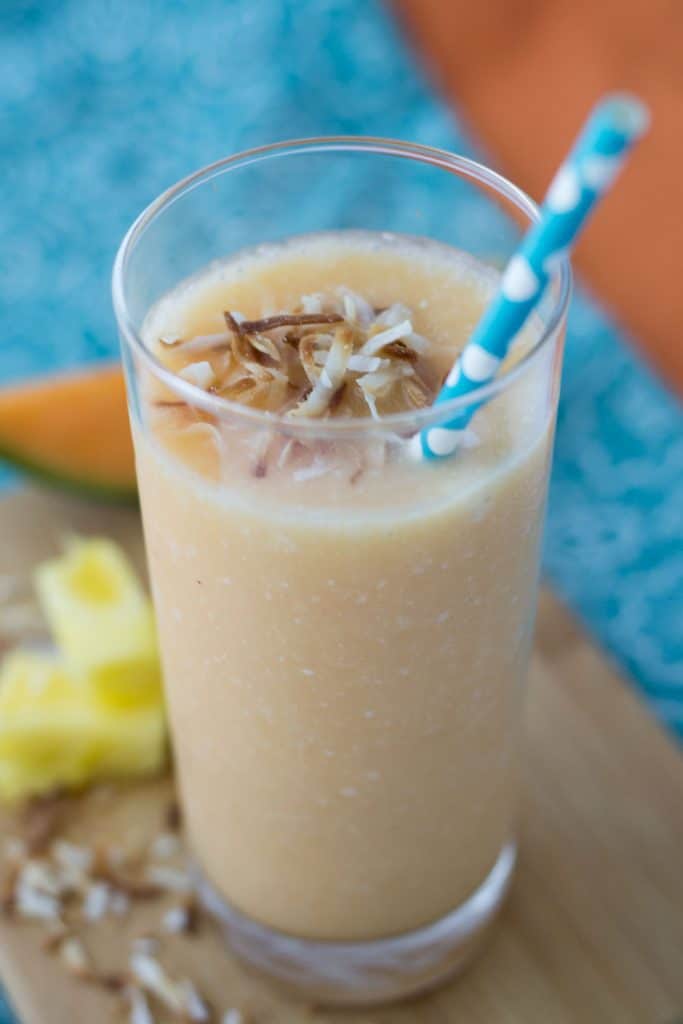 Cantaloupe is one of those foods that reminds me of my childhood summers. I know that may sound strange — watermelon is usually the quintessential summer fruit, but my parents loved cantaloupe. While we helped ourselves to big wedges of watermelon, they enjoyed the cantaloupe, which we had no interest in. Why? I couldn't tell you. It just didn't seem that appealing.
It wasn't until I was in my late teens that I came to appreciate cantaloupe. I think it's yummy alone, in a salad or especially in this tasty cantaloupe smoothie.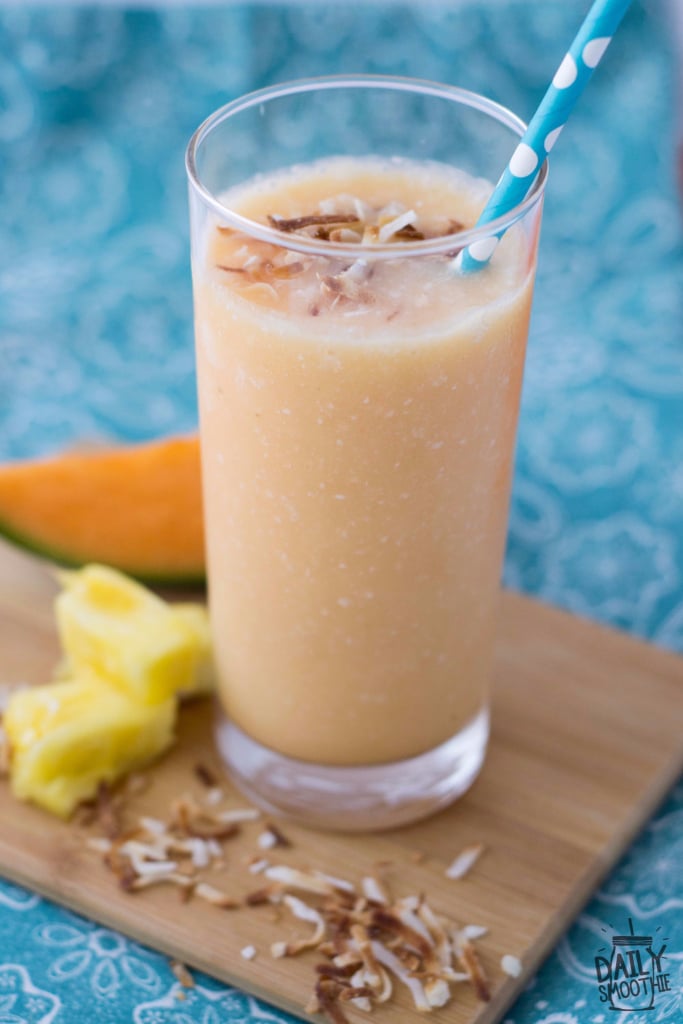 Why don't you give it a try?
Oh, and a quick tip for the moms and dads out there, if you're going to be sharing this drink with young kids, I'd advise skipping the coconut flakes in this recipe or blending the smoothie for a lot longer to make sure there are no tiny coconut chunks. I personally like drinks that have pulp, but my son didn't like the consistency with the coconut flakes. It's just as good without them, though.
Here's the recipe.
Creamy Cantaloupe Smoothie – Vegan, Dairy-Free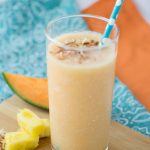 This creamy cantaloupe smoothie recipe really hits the spot on a hot summer day. It's made with coconut milk rather than dairy, so it's light on calories, too!
1 c. cubed cantaloupe
1 c. coconut milk
1/4 c. pineapple chunks
1  tbsp. sweetened shredded coconut
1 tbsp. toasted shredded coconut for garnish (optional)
1 c. ice
Add coconut milk and shredded coconut to blender.
Cube cantaloupe and pineapple and add to blender along with 1 cup of ice.
Blend and pulse for 1-2 minutes until smooth and creamy.
Pour into glass and garnish with toasted coconut, if desired.
You may omit the ice if using frozen cantaloupe and pineapple.
What was your favorite summer fruit — the one that brings back sweet memories of fun summer days that seem to stretch on forever? Tell me about it in the comments.
If you liked this Creamy Cantaloupe Smoothie Recipe, you may also like my Cantaloupe Lime Salsa on my other blog, Glue Sticks & Gumdrops.