Parsley is a common herb that is often used as a garnish or added to dishes for a burst of flavor. However, this unassuming green plant packs a powerful punch when it comes to health benefits. One creative and delicious way to reap the parsley smoothie benefits is by adding it to your favorite smoothie recipes. Not only does this add a refreshing and vibrant taste, but it also provides a range of health benefits that can boost your overall well-being.
Let's dive into the amazing benefits of adding parsley to smoothies and how it can improve your health with each sip.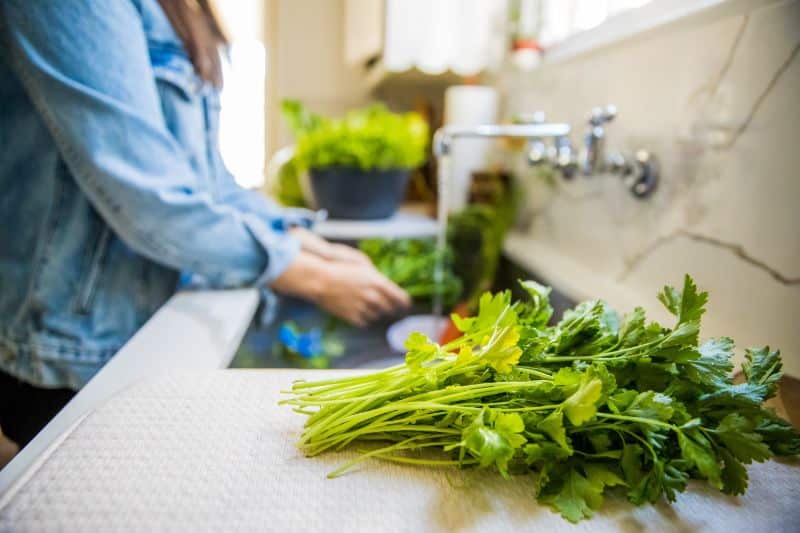 The Nutritional Powerhouse: What Makes Parsley So Healthy?
Parsley may be a humble herb, but it certainly packs a nutritional punch. Loaded with vitamins and minerals, it's no wonder why parsley is considered a nutritional powerhouse. One of the key benefits of parsley is its high vitamin C content, which helps boost immunity and fight off illnesses. It also contains antioxidants that can reduce inflammation in the body and promote overall wellness.
In addition to vitamins and antioxidants, parsley is also rich in essential nutrients like vitamin K, iron, and calcium, which are important for bone health and blood clotting. It even has detoxifying properties, helping to cleanse the body and remove harmful toxins.
Not only does parsley provide a range of health benefits, but it also adds a fresh and vibrant taste to your smoothies. So why not take advantage of all the benefits of parsley and start adding it to your favorite smoothie recipes? Your taste buds and your health will thank you!
Boosting Immunity and Fighting Inflammation with Parsley Smoothies
Parsley is not just a pretty garnish – it's a powerful tool for boosting immunity and fighting inflammation. The high levels of vitamin C in parsley help to strengthen your immune system, making you less susceptible to illnesses and infections. The antioxidants found in parsley also play a crucial role in reducing inflammation throughout your body, protecting against chronic conditions such as heart disease and arthritis.
By adding parsley to your smoothies, you can supercharge your body's defense system and promote overall wellness. It'll give your drinks a refreshing taste and your immune system a much-needed boost.
Getting Creative: Delicious Parsley Smoothie Recipes to Try Out
Are you ready to get creative in the kitchen and try out some delicious parsley smoothie recipes? Adding parsley to your smoothies not only boosts their nutritional value, but it also adds a fresh and vibrant flavor that will make your taste buds sing. Here are a few ideas to get you started:
Green Goddess Smoothie: Blend together a handful of parsley, a banana, a cup of spinach, a tablespoon of almond butter, and a splash of almond milk. This smoothie is packed with antioxidants, vitamins, and minerals, making it the perfect way to start your day.
Citrus Detox Smoothie: Combine parsley, grapefruit, orange, cucumber, and a tablespoon of chia seeds in a blender. This refreshing and tangy smoothie is delicious and helps to cleanse your body and boost your metabolism.
Tropical Paradise Smoothie: Mix together parsley, pineapple, mango, coconut water, and a scoop of protein powder. This tropical delight is tasty and provides a healthy dose of vitamins, minerals, and antioxidants.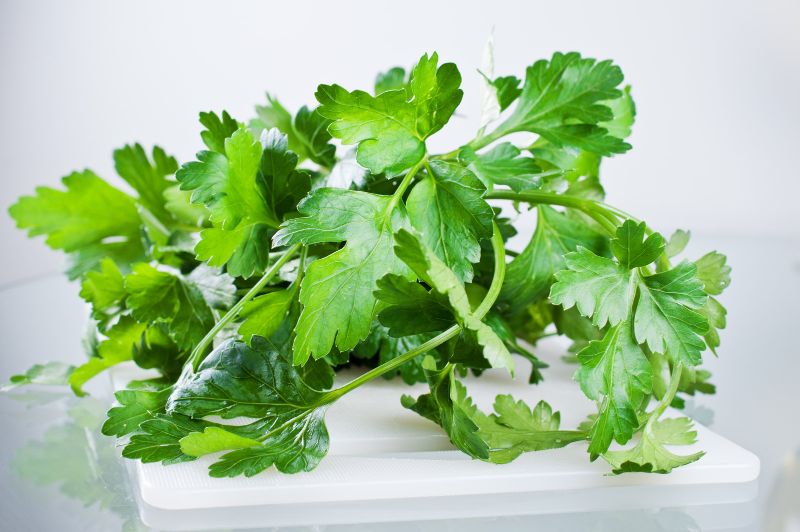 Maximizing Detoxification: How Parsley Smoothies May Help Cleanse Your Body
By incorporating parsley into your smoothie recipes, you can maximize the detoxification benefits and give your body a much-needed reset.
One of the key benefits of parsley is its ability to support kidney function. It acts as a natural diuretic, helping to flush out toxins and excess fluids from your body. This can aid in reducing bloating and water retention, leaving you feeling lighter and more refreshed.
Parsley is also known to support liver health, which is crucial for detoxification. It contains compounds that stimulate liver function and help break down toxins more efficiently. This can enhance the body's ability to eliminate harmful substances and promote overall detoxification.
Additionally, parsley is rich in fiber, which is essential for healthy digestion and elimination. By adding parsley to your smoothies, you can support regular bowel movements and prevent constipation, allowing your body to effectively eliminate waste.
So, if you're looking to maximize the detoxification benefits of your smoothies, don't forget to add a generous amount of parsley. Your body will thank you for the extra support in cleansing and rejuvenating from within. Cheers to a healthier, detoxified you!
Supercharging Your Skin: How Parsley Smoothies May Improve Your Complexion
When it comes to achieving radiant, healthy skin, parsley may be the secret ingredient you've been missing. Incorporating parsley into your smoothies can supercharge your skin and give your complexion a much-needed boost. This humble herb is rich in vitamins and antioxidants that can work wonders for your skin's health and appearance.
The vitamin C in parsley helps promote collagen production, which is essential for maintaining firm and youthful-looking skin. It also has antioxidant properties that can protect your skin from free radical damage and reduce the signs of aging. Additionally, parsley contains chlorophyll, a natural detoxifier that can purify your skin from within and give it a healthy, glowing complexion.
To harness the skin-enhancing benefits of parsley, simply add a generous handful to your favorite smoothie recipes. You'll not only enjoy the refreshing taste but also notice a visible improvement in your skin's texture and radiance. Cheers to supercharging your skin with parsley smoothies!
Shedding Pounds with Parsley Smoothies: How Parsley Can Help with Weight Loss
If you're on a weight loss journey, parsley may be the secret ingredient you've been searching for. Adding parsley to your smoothies can help boost your weight loss efforts and shed those extra pounds.
Firstly, parsley is low in calories and packed with fiber, making it a perfect addition to your weight loss smoothies. It helps you feel fuller for longer, preventing overeating and unnecessary snacking.
Additionally, parsley is a natural diuretic, which means it can help reduce water weight and bloating. This makes your body appear leaner and more defined.
Moreover, parsley is rich in antioxidants, which can help speed up your metabolism and burn fat more efficiently. By incorporating parsley into your smoothies, you're giving your weight loss journey an extra boost.