Eating a balanced diet isn't always easy, especially if you're on the go a lot. The same is true of kids. How many activities are your kids in these days? We were crazy busy recently with soccer, baseball, lego club and more every week. One way we try to get the vitamins and nutrients we need is by drinking smoothies. And these fruit and veggie smoothies are the perfect way to sneak in veggies for kids who aren't big fans of them.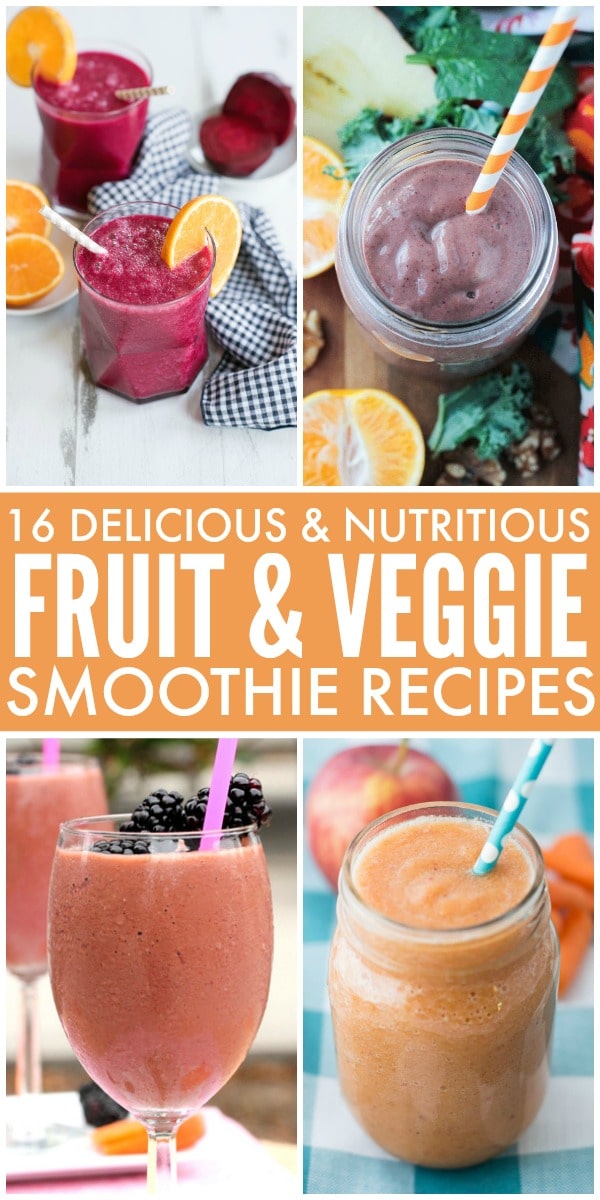 Healthy Fruit and Veggie Smoothies
If you're worried that you're not getting enough fruits and vegetables in your daily diet, you can easily remedy that with one of these smoothies. It's so easy to fit a serving of veggies (or two or three!) into a single healthy smoothie recipe.
But don't think for a minute that these are going to be a chore to drink, just as eating your least favorite vegetables was a chore as a kid. No, these fruit and veggie smoothies are absolutely delicious… you'll drink them up in no time flat.
Make an extra serving or two to freeze for later in the week if you can. Set it in the fridge the night before, and you'll have a healthy breakfast on the go ready for you the next morning.
But let's get to the healthy smoothies, shall we?
Coconut Carrot Smoothie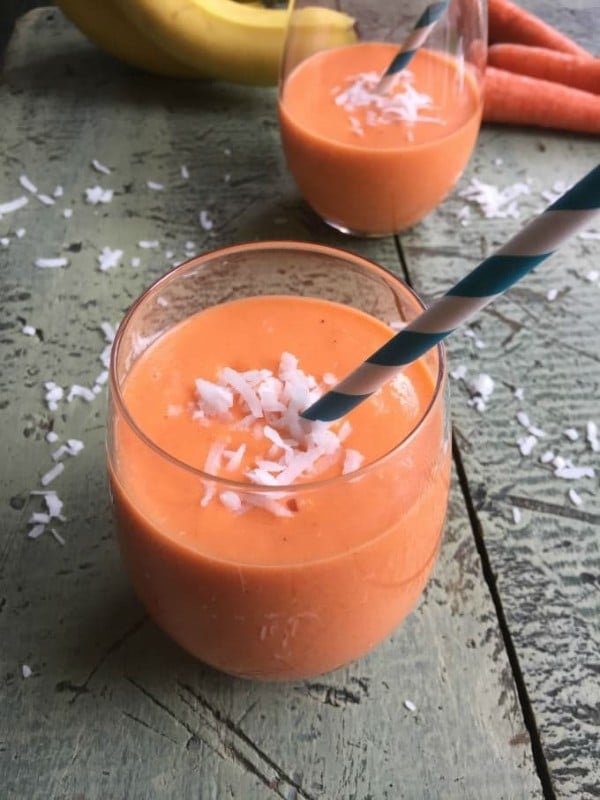 This creamy coconut carrot smoothie from A Cedar Spoon is the perfect breakfast or snack for anyone trying to get a little more beta-carotene, potassium, and calcium in their diet. Kids will love it, too, because the addition of coconut makes it naturally sweet.
Cauliflower Chocolate Protein Smoothie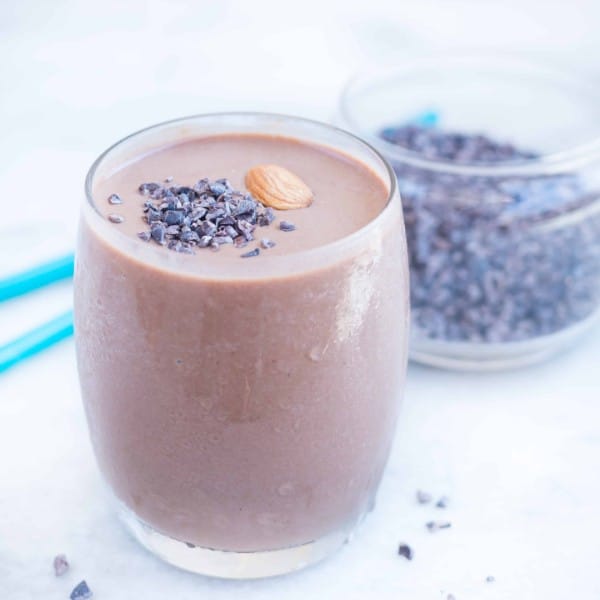 Power up after your workout with this thick and creamy Cauliflower Chocolate Protein Smoothie from The Flavours of Kitchen. It's high in protein, low in carbs, and you don't even taste the cauliflower.
Carrot Apple Ginger Smoothie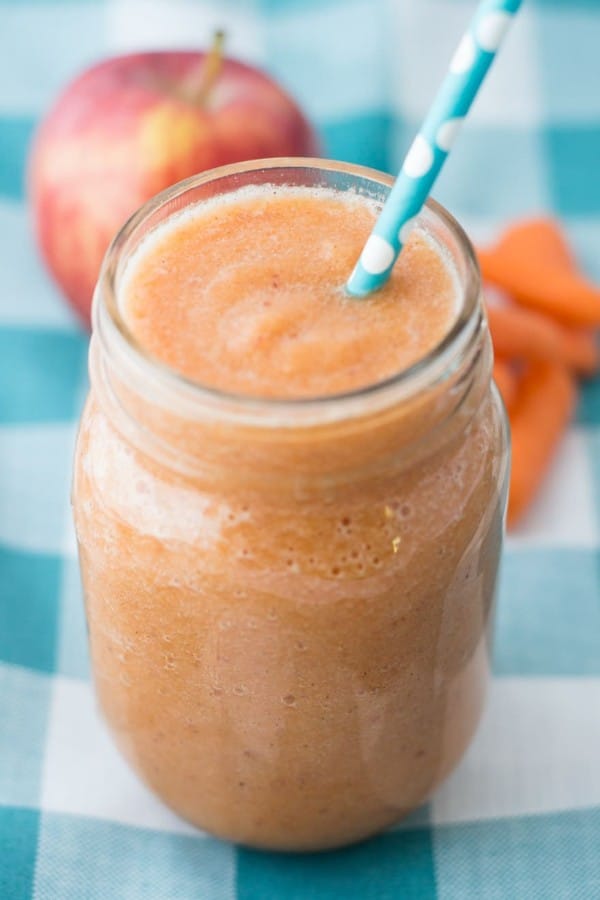 If you haven't tried our very own Carrot Apple Ginger Smoothie, you really should! It's sweet, spicy, and chock full of good-for-you fruits and veggies. It tastes like fall, and this smoothie is tasty cold or warm.
Beet Fruit Smoothie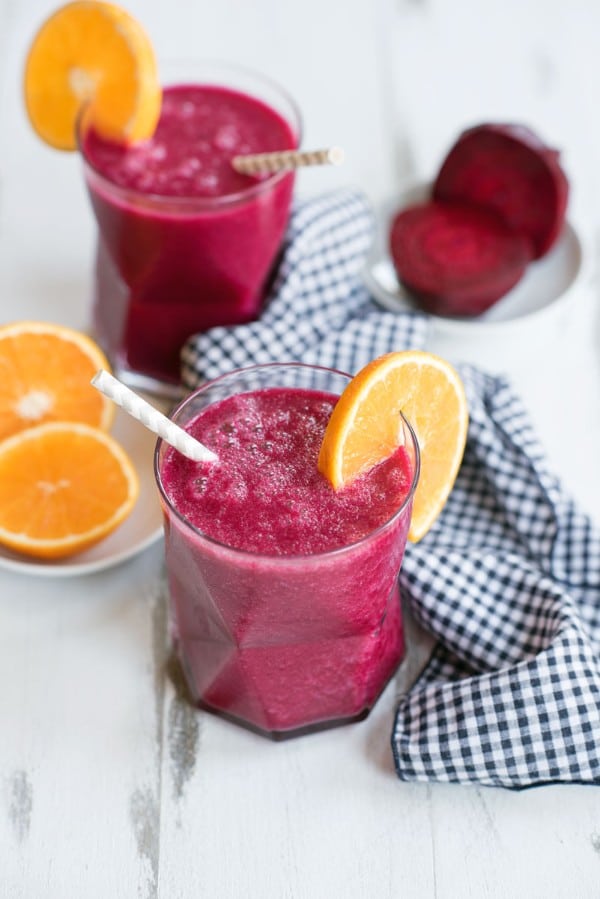 You'll want to try this beet fruit smoothie from A Side of Sweet even if you aren't a fan of beets normally. It doesn't have much of a beet taste. Instead, you'll get the tart and sweet flavors from the oranges, apple and pomegranate juice.
Hidden Vegetable Smoothie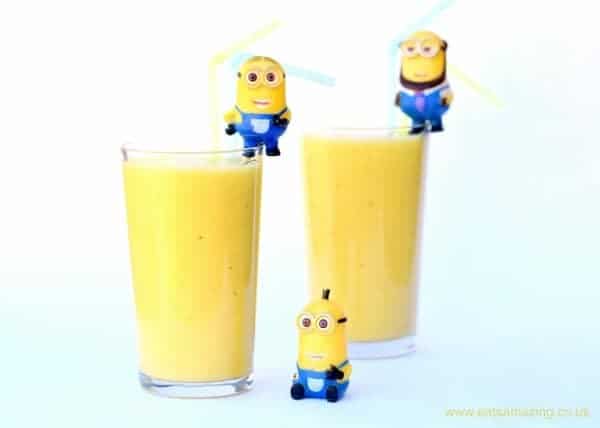 I would never have guessed the secret ingredient in this tropical hidden vegetable smoothie from Eats Amazing: sweet corn! Can you believe I've never thought to add sweet corn to a smoothie? This recipe has given me all sorts of creative ideas to try, especially for fall smoothies!
Dairy-Free Sweet Potato Smoothie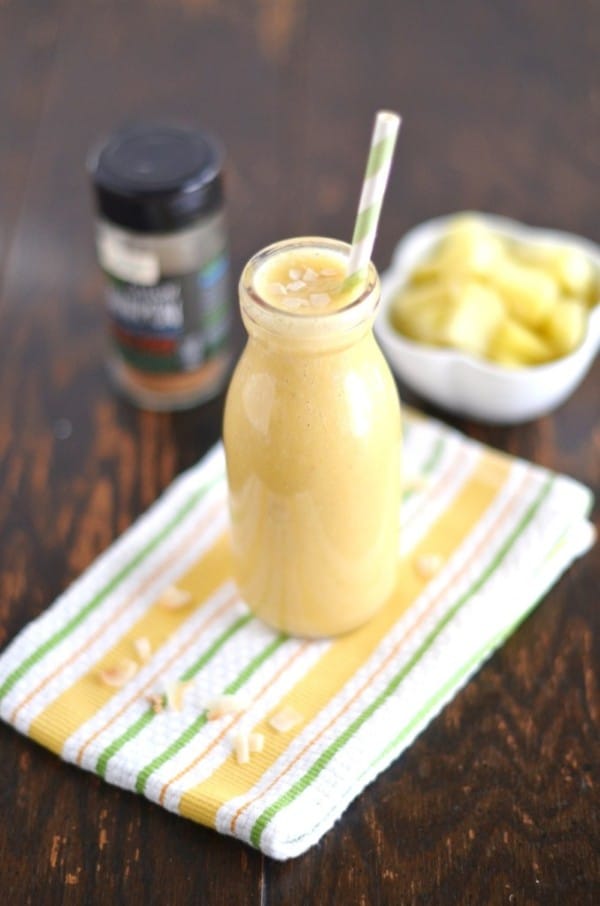 This sweet potato smoothie is rich in vitamins and nutrients, and it's great for skin and hair. Bear in mind that you do have to cook the sweet potato first and let it cool, but since they're healthy and delicious anyway, that should be no trouble the next time you have a sweet potato with dinner. Pumpkin puree, maple syrup, and warm spices round out this yummy drink.
Pumpkin Pear Smoothie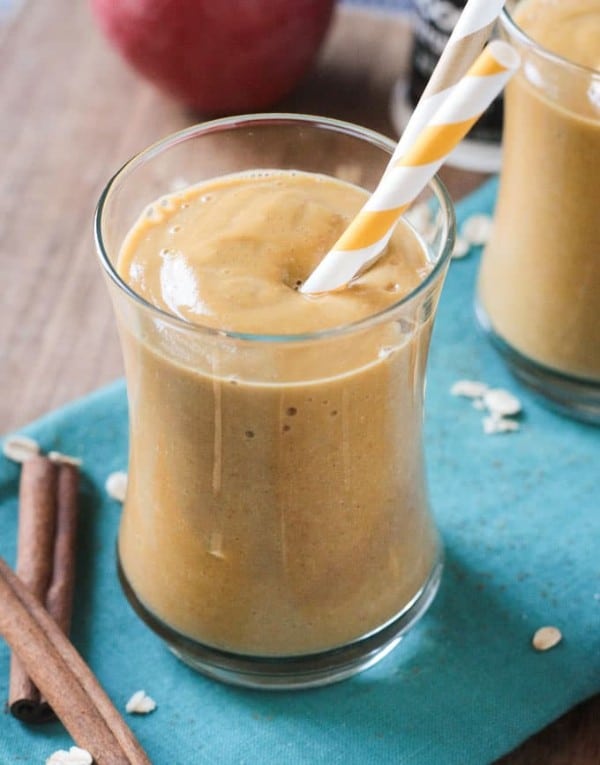 Veggie Inspired describes the flavor of this pumpkin pear smoothie as 'autumn in a glass,' and that seems to be accurate! Fresh ginger and ground cinnamon bring a warm flavor to these cool, refreshing fruit and veggie smoothies, and the shot of probiotics offers additional health benefits.
Pumpkin Cranberry Smoothie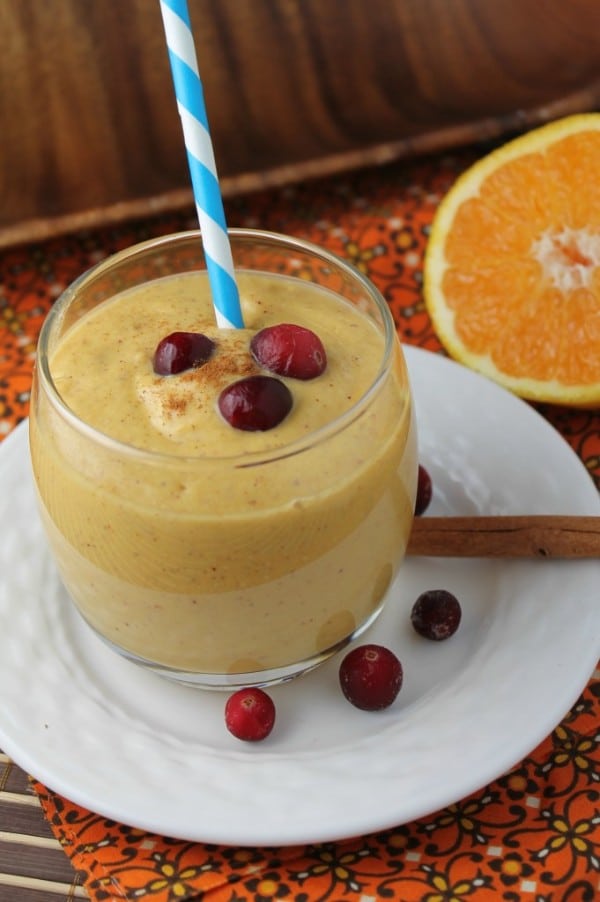 Tessa the Domestic Diva's pumpkin cranberry smoothie is another dreamy drink for autumn. It's loaded with healthy ingredients like pumpkin, apple, orange, and cranberries as well as being paleo and whole30-friendly.
Lemon Cheesecake Smoothie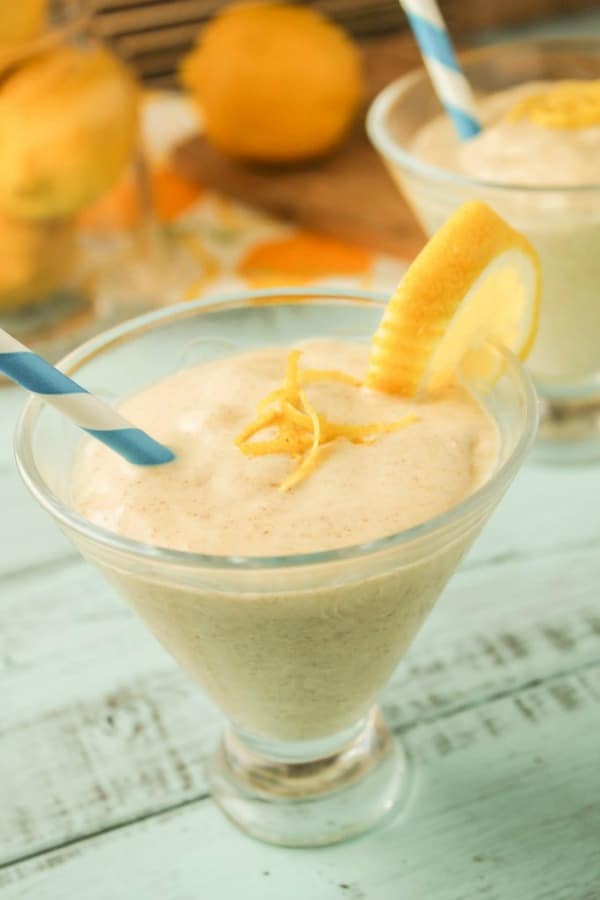 You also don't want to miss her paleo lemon cheesecake smoothie. You can vary the flavor slightly by using pumpkin, butternut squash or cauliflower for the veggie portion. I love lemon-flavored everything, so I'm definitely giving this one a try soon.
Power Peach Mango Smoothie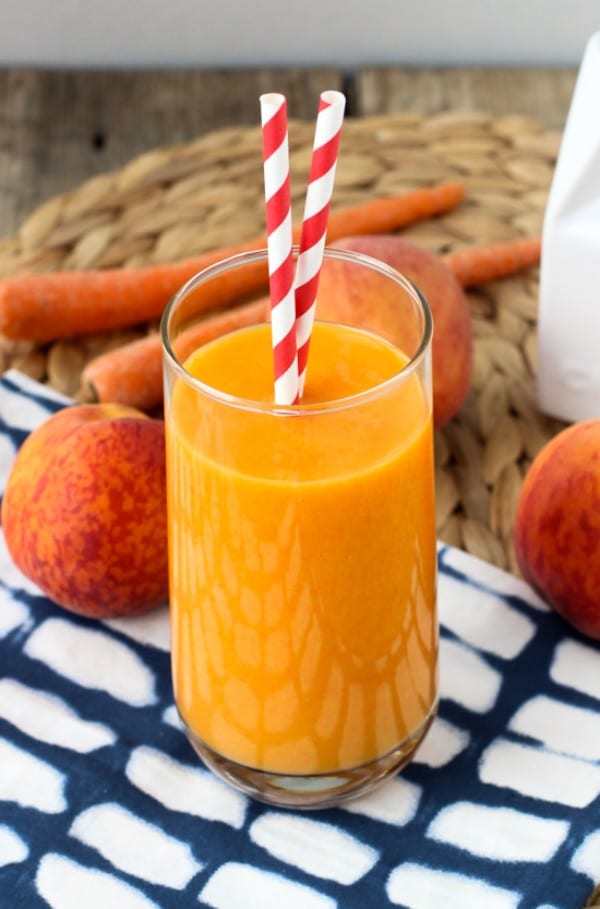 Power up your morning with this peach mango smoothie from My Sequined Life. This combination is made even more fabulous by adding a couple of carrots for some extra vitamin A and other nutrients. The peach and mango flavors are the stars here, though, but it's always helpful to sneak in veggies where you can, especially if your kiddos have an aversion to some of them.
Veggie Berry Smoothie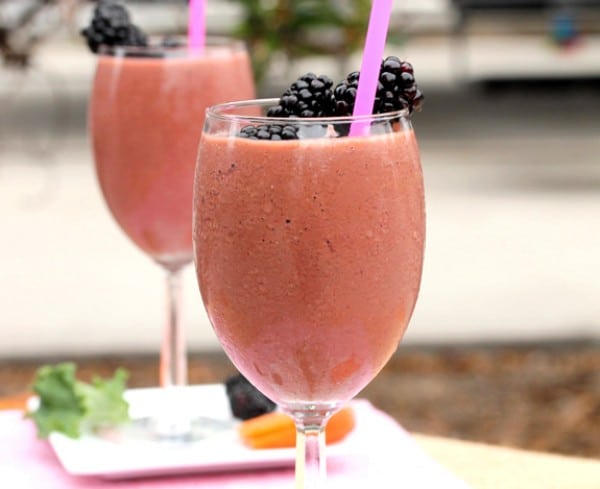 You won't believe how many veggies are packed into this veggie berry smoothie from Coupon Clipping Cook! Carrots, purple cabbage, kale, and spinach are blended with blackberries, strawberries and a few other ingredients for a powerhouse of nutrients in a glass.
Superfood Smoothie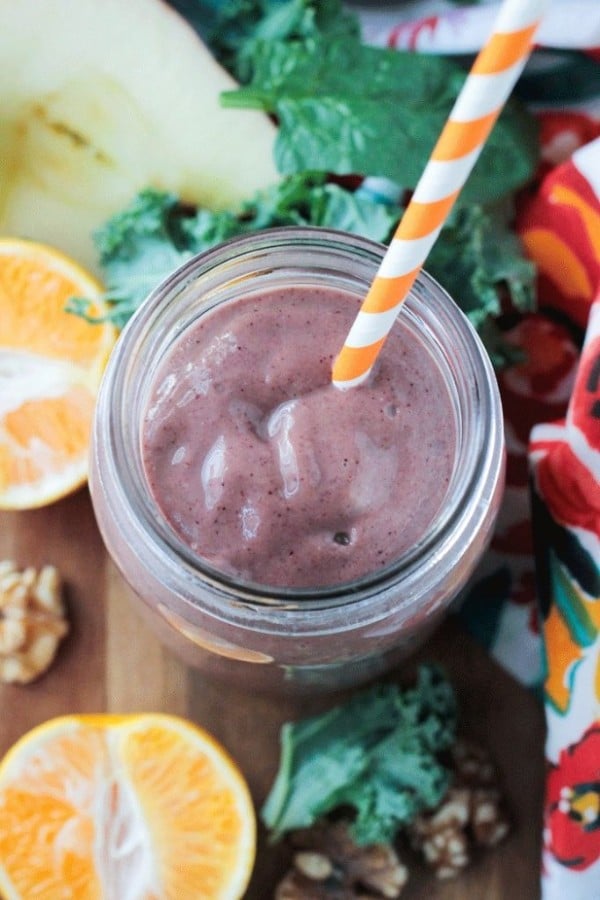 Get glowing skin with this superfood smoothie from Veggie Inspired! It's one of the prettiest fruit and veggie smoothies I've seen, and I'm sure one of the tastiest, too. Avocado, kale, spinach, berries, nuts, apples and clementines combine to promote a healthy digestive system, fight toxins, and increase immunity. The avocado really adds to the creaminess of this smoothie.
Mango, Carrot & Ginger Smoothie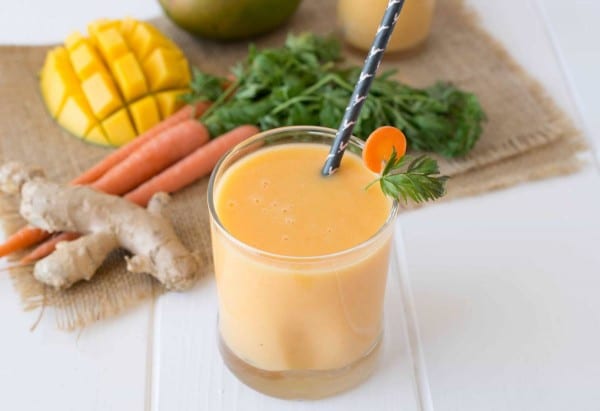 Mango and carrots pair beautifully together in this mango, carrot, and ginger smoothie from Culinary Ginger. This is one smoothie recipe that will definitely be a hit with the kids. It's colorful, sweet, and flavorful.
Vegan Tropical Butternut Squash Smoothie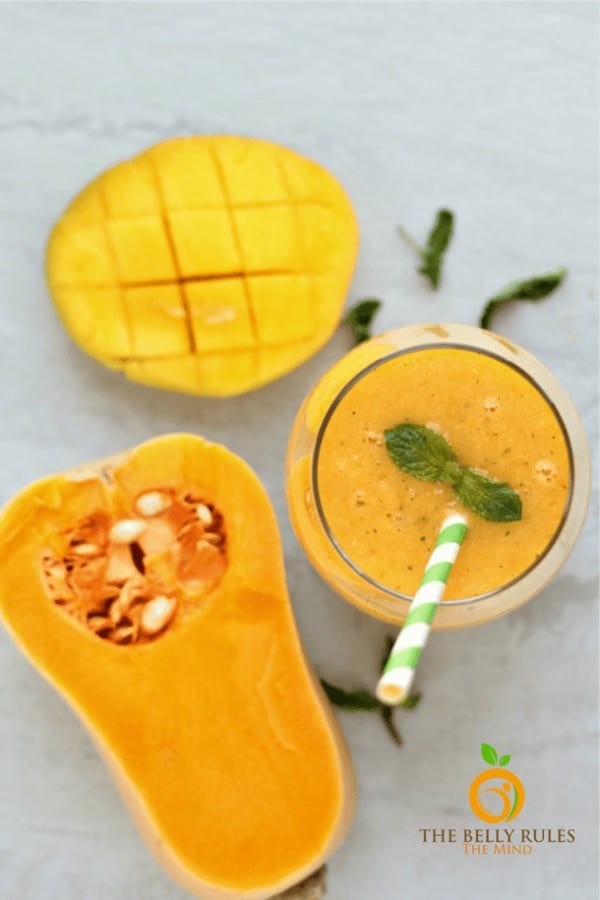 I cannot wait for fall to try this tropical butternut squash smoothie from The Belly Rules the Mind. It's thick and creamy, low-fat, and great for giving your immune system a boost. You can't eat (or drink) enough immune boosting foods when autumn comes around!
Healthy Chocolate Smoothie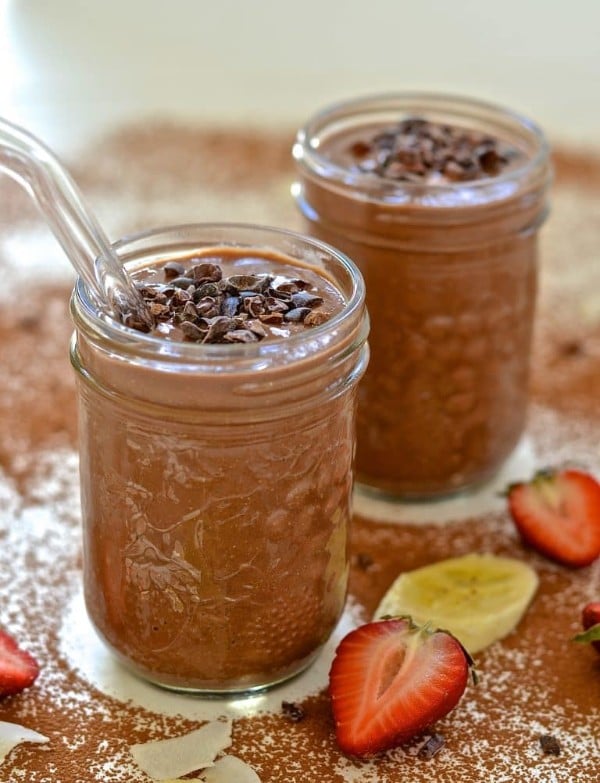 A smoothie that's packed with fruits and veggies… and chocolate? Sign me up, please! Sweet potato, banana, cocoa powder and a couple of other simple ingredients are all you need to enjoy this thick and healthy chocolate smoothie from A Virtual Vegan for your next breakfast.
Cranberry Beet Smoothie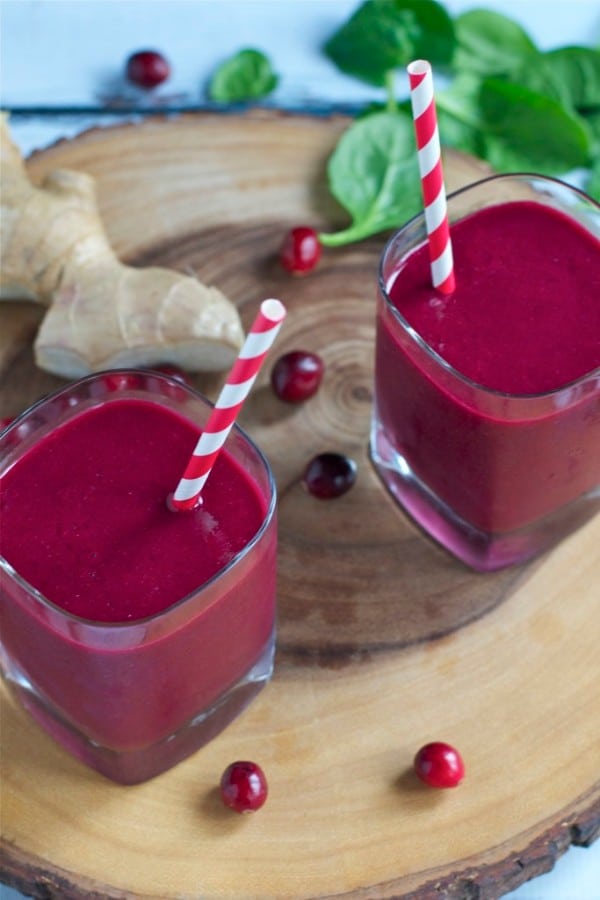 The color of this cranberry beet smoothie from A Dash of Megnut is gorgeous! I have to say, it is inspiring me to give beets a second chance in my fruit and veggie smoothies. This is the perfect smoothie for winter, particularly after the holidays are over and you want to get back to eating healthy again.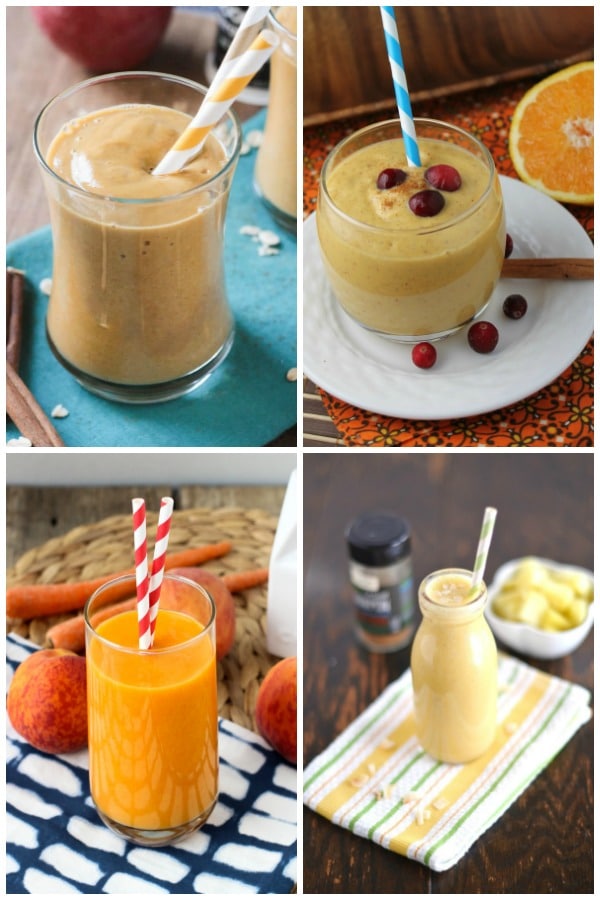 If you liked this list of healthy fruit and veggie smoothies, you should check out some of our favorite green smoothies below: