Get a complete breakfast of nutritious fruits, protein and whole grains in this Blueberry Banana Oatmeal Smoothie. It's simple to pull together in the mornings for a delicious breakfast smoothie you can drink on the go.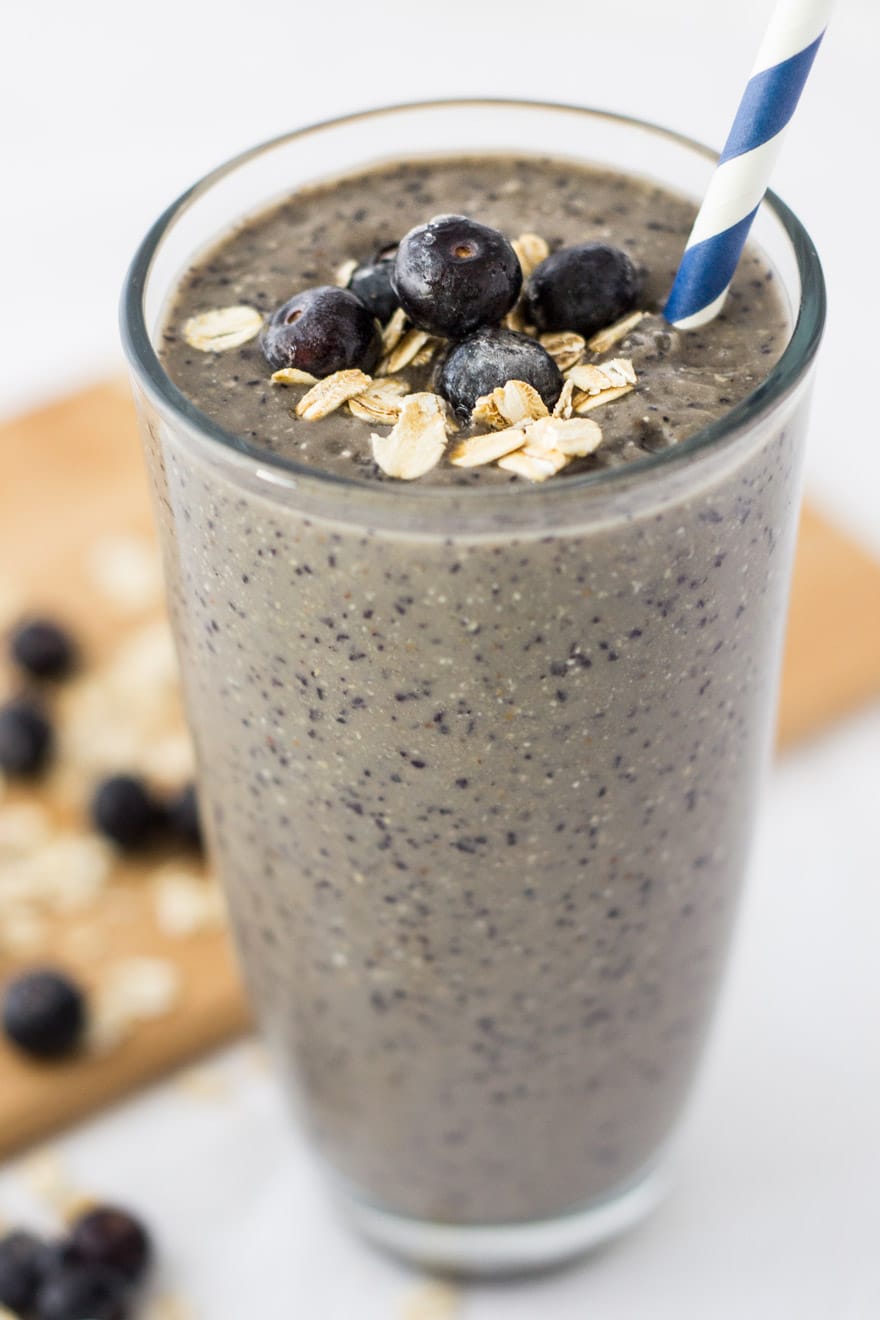 I used to hate oatmeal. Seriously. As a kid, I'd never eat the stuff because it seemed mushy and unappealing. Fruit, yes. Oatmeal? Not a chance. It wasn't until I tried blueberry banana oatmeal as an adult that I changed my mind.
My dad's method of oatmeal prep wasn't exactly enticing. He made it the way his mother taught him to (as a poor family in the 40s-50s)… It was made with milk and sugar. That's it. So you can imagine why the idea of slightly sweet mush didn't exactly make me want to sit down with a big bowl of the stuff.
But add some blueberries and oatmeal (and get rid of the sugar), and you have a winner. That's the flavor I want in this smoothie.
By the way, if you love blueberries, you have to try our Blueberry Spinach Smoothie. If you're not a fan of spinach, I promise, you won't even taste it. You'll just get all those wonderful nutrients and antioxidants.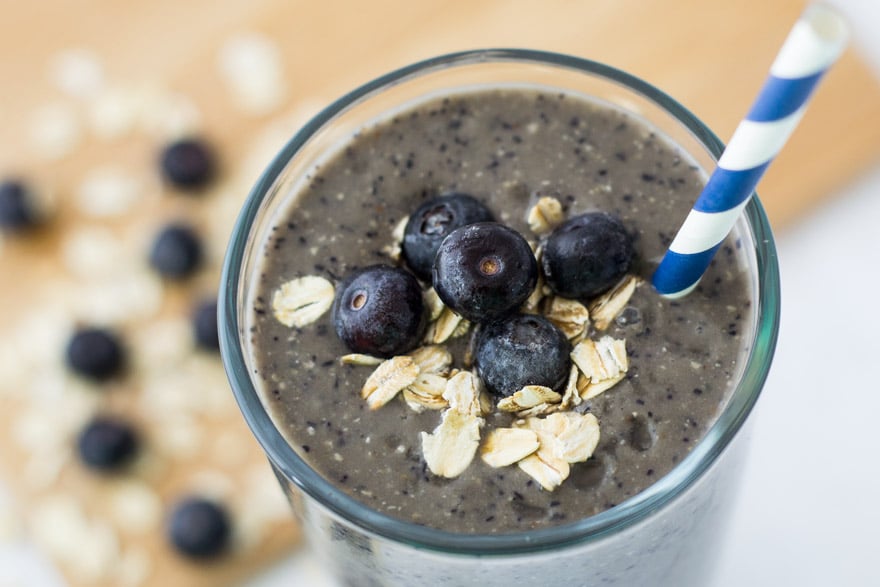 I don't like my oatmeal overly sweet, and I don't want my smoothies to be that way, either. So I rarely add a sweetener (unless it's a bit of honey) because I like my fruits as they are, thank you very much. The banana sweetens this up nicely, and the yogurt helps, too.
And if you forgot to freeze your blueberries and bananas the night before, don't worry. Just add a half a cup or cup of ice to the mix and toss in a few more blueberries to boost the flavor after it gets "watered down" from the ice.
Kids love this recipe, too, so if your kiddo isn't keen on oatmeal, it's a great way to sneak some in!
Blueberry Banana Oatmeal Smoothie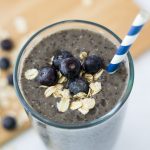 What a great start to the morning! This blueberry banana oatmeal smoothie is packed with lots of fruit and healthy whole grains to fill you up without tons of calories. It's a terrific meal on the go!
1 c. frozen blueberries
1 frozen banana
1 5.3 oz cup vanilla Greek yogurt
1/2 c. coconut milk (or any other milk you like)
1/3 c. whole grain oats
Add milk, yogurt, fruit and oatmeal to blender.
Blend and pulse for 1-2 minutes, until smooth and creamy.
Pour, garnish with oatmeal and blueberries, and enjoy!
If your blender is small or low-powered, add the oatmeal first, grind it up, and then add the remaining ingredients to blend.
Add 1 cup of ice if using fruit that is not frozen.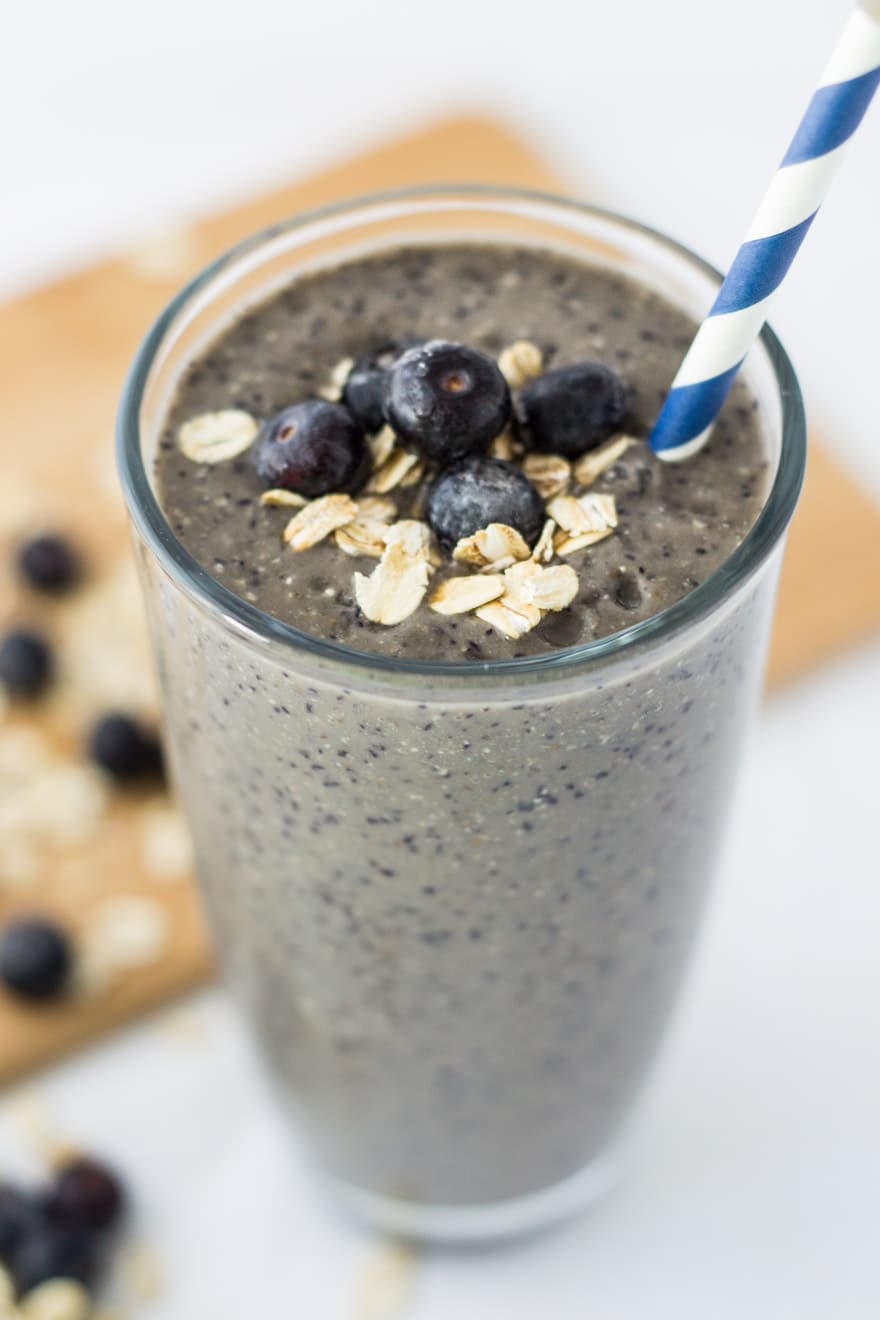 What's your favorite way to eat oatmeal or drink an oatmeal smoothie?