How do you make smoothies at home?
Making smoothies is one of the best ways to start your day. But it can be confusing when you don't know how.
The good news is that making a smoothie is easier than you think! There are only 4 simple steps to making a great tasting, healthy smoothie every time. You'll be surprised by just how easy and inexpensive it is to make your own homemade smoothies instead of buying them at your favorite juice bar or coffee shop.
If you're looking for an easy way to eat healthier and save money, then follow these four simple steps. Soon enough you'll be able to whip up your own tasty concoctions in no time!
Head's up: we have affiliate links in this post.
Step 1: Select your smoothie ingredients.
What do you put in a smoothie? Smoothies are an easy way to add all of the healthy things your body needs, from fresh or frozen fruits and veggies that make for great flavor combinations to protein powder or plain Greek yogurt for building muscle.
Plus they're so versatile because anything goes! You can follow these recipes or use what's on hand—it doesn't matter as long as you choose healthy ingredients.
Whether following a recipe from our site (some of our favorites are the Strawberry Banana Smoothie and Peanut Butter Smoothie) or improvising based on what you already have at home, you'll get excited for your next refreshing sip!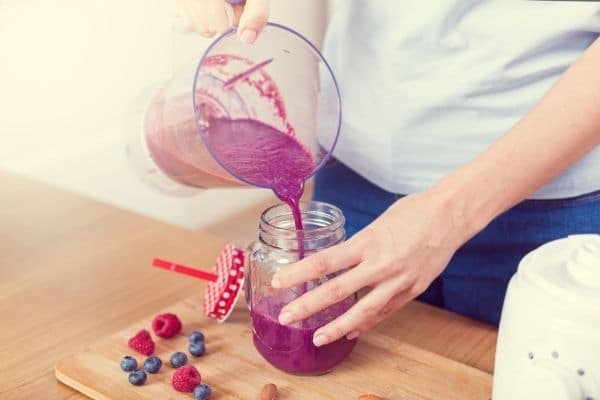 Step 2: Put all your ingredients in a blender.
All you have to do is put the smoothie ingredients in a blender and blend until smooth to get that party started! A good blender makes all the difference when making smoothies.
You can't go wrong with a Blendtec! The powerful blenders are perfect for smoothies, ice cream, and even soups.
Blend the ingredients until they're well-combined for about 30-45 seconds, or until your smoothie is completely mixed together and super smooth.
Pour into a glass and enjoy, because you deserve it!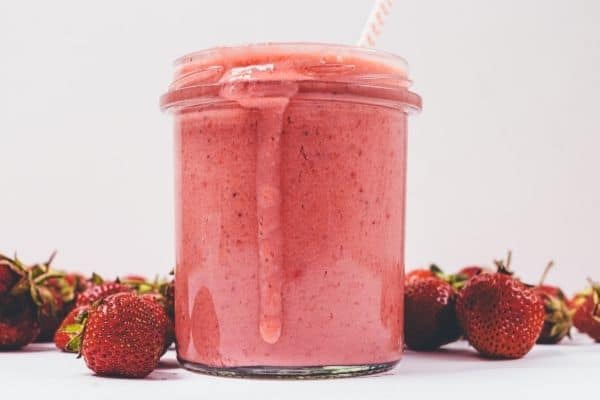 Step 3: Adjust your smoothie consistency.
If it's too thin…
Smoothies can be too thin sometimes. Not to worry, though! You have two options for thickening your smoothie or juice drink: adding some ice cubes and/or frozen fruit will get you the thickness that you're looking for in no time at all.
If it's too thick…
If you're making a smoothie, and it's too thick, just add more liquid. Your options are water (a great idea if you're watching your calories), juice (use this if your smoothie seems a little flavorless), or almond milk (try this option if you want more protein in your smoothie). Just add the liquid and give it another blend for a few more seconds.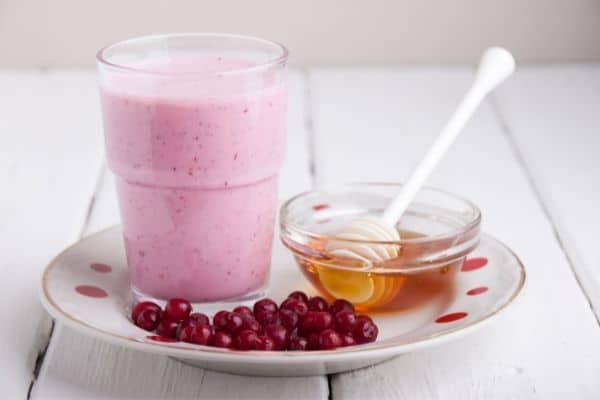 Step 4: Adjust the sweetness of your smoothie.
To make it sweeter:
One of the best ways to make a smoothie sweeter is with honey or maple syrup (the natural kind, not the processed syrup you put on pancakes). Just a little bit can add that extra sweetness you want, without being too much.
Another option for sweetening up your smoothie is adding a banana. Frozen fruit or fresh fruit both work great. Foods like bananas are naturally sweet and delicious—and they're packed with vitamins and minerals.
If you like sweeter smoothies, you can also use 1/2 cup of fruit juice instead of water or coconut milk to sweeten things up a bit more!
To make it less sweet:
Try adding some vegetables such as cucumbers, spinach, or tomatoes. Of course, consider the flavor profile you're working with. A pineapple cucumber smoothie, for example, is delicious. A pineapple and tomato smoothie, however, would be quite unpalatable.
Nut butter is an option that adds a bit of protein, a bit of salt and can take the edge off of a smoothie that's too sweet.
You can also make it less sweet by adding more liquid, like water or milk, to dilute the flavor.
As you can see, making smoothies is fun and easy. Once you understand how to make smoothie recipes, you'll be able to do it with ease! Just follow our 4 simple steps, and before long you'll have a perfect smoothie that's packed with vitamins, minerals, protein, and fiber every time.
Don't forget to freeze some bananas for your next smoothie! Now that you know how to make smoothies, why not surprise your family or friends with one? Show them how delicious healthy eating can be! There are dozens of recipes here, so let yourself be inspired by all these beautiful fruits and veggies and their health benefits.
Drink up!