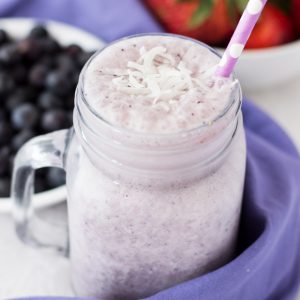 Double Berry Protein Smoothie
Yield 1 smoothie
Get a post-workout boost (or just get some extra protein in your diet) with this delicious Double Berry Protein Smoothie made with blueberries, strawberries, milk and your favorite vanilla protein powder.
Ingredients
1/2 c. frozen blueberries
1/2 c. frozen strawberry halves
1 c. unsweetened coconut milk
1 scoop vanilla protein powder
Instructions
Add milk, protein powder and fruit to blender.
Blend for 1-2 minutes, until smooth and creamy.
If fruit is not frozen, add 1 cup of ice to ingredients.
Recipe by Daily Smoothie at https://adailysmoothie.com/double-berry-protein-smoothie/